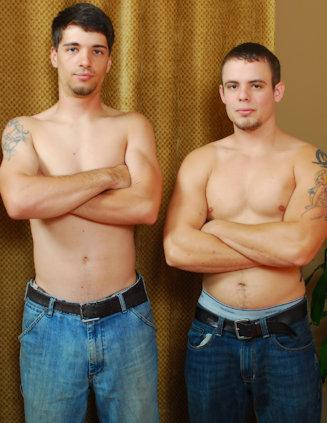 True to his word, Denver was back in the studio as fast as he could. He has been lucky enough to be paired up with the ever reliable Darren, who is going to both blow his mind and his cock. Right away, it was easy to see that the two boys had a good rapport with each other which promised an extra hot shoot. Even though he said he was a little nervous, Denver appeared as confidant as ever. Taking off their tops, Denver and Darren looked like they were raring to go even as I asked Denver if he had ever had his ass eaten out. Surprisingly, he said that a girl had done it before so he was no stranger to the sensation. I then told him that Darren liked doing it and Denver didn't look like he minded in the slightest. The boys took off their jeans, their belts clunking as the jeans hit the floor. Now completely naked, both boys looked pretty relaxed, even Denver. Grabbing up the lube, Denver pumped a couple of squirts into his hand, likewise with Darren. Denver and Darren wrapped a hand around their semi soft dicks and put in some serious wrist action in order to get their cocks hard.

Only a moment later, when Denver's dick was half hard, Darren leaned over and started bobbing his head up and down. As Darren slid the long cock in and out of his willing mouth, Denver closed his eyes and drifted off into his own private fantasy land. Darren tugged on his own cock as he showed off his oral skills to Denver and like always, confirmed that he was the noisiest cock sucker at Broke Straight Boys. Every now and again, it looked like Denver would open his eyes slightly and peer down, watching Darren suck on his cock with relish. I asked Denver what he thought about the blowjob, Denver just grinned and said Darren was getting it done. Darren leaned back up against the headboard while Denver swallowed down Darren's long cock. With a hand wrapped around his own dick, Denver slowly jerked himself off as he got used to the taste of cock in his mouth. While he had never sucked cock before, there was little doubt that Denver was doing a great job as he had Darren moaning in pleasure almost right away. Denver slowly bobbed up and down on Darren's dick, managing to swallow him all the way down like a complete pro. Coming up for air, Denver was a little surprised when Darren leaned right in and kissed him full on the mouth, however, Denver was laid back enough to just go with the flow. In fact, after the initial shock of being kissed by another guy, it was clear that Denver was more than a willing participant as he introduced a little tongue into the kissing even as both the boys tugged on their respective cocks. The two boys were obviously enjoying themselves and it was with some reluctance that Denver broke it off in order to go back down on Darren's dick.

Only a few minutes later, Darren indicated for Denver to get down on his hands and knees and to present his ass towards the camera. Scrambling to comply, Denver waited patiently for Darren to work his magic. Kneeling behind Denver, Darren gave the hairy ass a couple of good hard slaps, wringing a grunt of pleasure from Denver. As soon as the tip of Darren's tongue started playing with his virgin hole, Denver gasped in delight. With his large hand encircling Denver's cock, Darren began to gently wank him off even as he worked on lavishing the hole with his undivided attention. As he panted heavily, there was no doubt that Denver was loving the feel of a tongue slicking up his most private place. Like always, Darren was determined to give Denver a good work out as he tickled Denver's ass with the tip of his tongue. Darren gave Denver's ass another slap, which only made Denver groan all the more.

At Darren's prompt, Denver rolled over onto his back with his legs spread wide. Still kneeling in between Denver's legs, Darren slid the half hard cock into his hot, wet mouth. Reaching up, Darren stuck his forefinger into Denver's mouth, Denver instantly complying by pretending to suck on it just as he had with Darren's dick only minutes earlier. Working hard, Darren was sweating from all his efforts even as he jerked himself off and it wasn't going to be long before one of the boys announced he was ready to cum. Breaking off for some much needed air, Darren grabbed hold of Denver's cock in a firm grasp and started to wank him off in earnest. A glance up at Denver confirmed that he was close to cumming so Darren relinquished control and instead, lavished the heavy balls with attention even as Denver's hand flew up and down the hard shaft. Suddenly, Denver groaned as he shot his load all over his stomach, the cum dribbling down into his thick pubes. Now it was Darren's turn. Standing up again, Darren wanked off at a fast and furious pace until a jet of cum splattered Denver's stomach and hip.