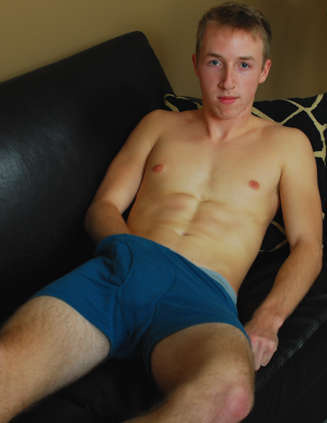 Tim is a 20 year old student who is in need of quick cash in order to help pay his student loans, thus, he applied online to Broke Straight Boys and now, he is in the studio to do his solo. Raring to go, Tim stood up and stripped off his t-shirt, revealing a slim but toned upper body before getting all the way naked. Tim, as he held his dick up so that there was a good view of his nicely formed balls, indicated that his dick was around 7 inches. Turning around, he showed off his straight boy ass before sitting back down on
the sofa.

Grabbing some lube, Tim worked it along his cock shaft, using both hands to massage it in. Every now and again, Tim would dip down with his fingers, slicking up his balls as he worked on getting hard. It didn't take long for Tim to be able to show off his long, cut dick and I couldn't help but compliment him on such a nice looking cock. As nervous as he had previous said he was, Tim shot the camera an occasional curious glance as he displayed his handy skills. Tim stood up so that I could get a close up of his slim cock that was nestled in a thick bush of blond pubes. As I pulled back the camera, Tim stood slightly on one side, lightly touching himself across the chest and tweaking a nipple even as he continued to jerk himself off.

His hand sliding up and down the stiff shaft, Tim admitted that he was still a little nervous, however, there was no doubt that he was also enjoying the new experience. In a different move, Tim let the dick slip from his grasp and instead, gently slapped it back and forth so that it swayed from side to side before he went back to slowly working on his cock. A few moments later, Tim went and sat down on the couch arm, his legs spread wide as he started to jerk himself off in earnest. Looking straight at the camera, Tim had a small grin on his face, an all too clear indication that he was getting into the spirit of things. At my request, Tim shifted slightly so that the viewers at home could catch a glimpse of his virgin ass.

Ever so slightly, Tim touched his ass hole with a finger tip, almost teasing himself with a new sensation. All the while, he slowly fisted his dick. From the looks of things, Tim was clearly wanting to take his time with working his way to orgasm, obviously enjoying himself too much to go faster. Still, it was easy to see that he has worked up a sweat as he used both hands to massage his balls and wank himself off. There was a shift in the way Tim jerked on his dick, instead of long sweeps up and down his shaft, he now tightened his hand around the head of his dick and put a twist into his wrist. It wasn't going to be long before Tim showed off his money shot. Sure enough, as Tim panted hard, cum dribbled down his hard shaft and over his hand.