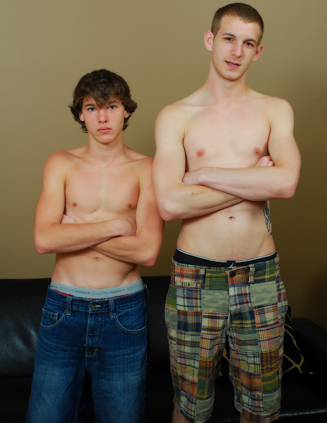 Today is Kodi's first time appearing on Broke Straight Boys with another guy and admittedly, he is nervous but luckily for him, he gets to have Rex show him the ropes. I told Kodi that there was just going to be some dick sucking today, then asked him how he liked his cock sucked. Kodi answered that he liked it better when he was either standing up or laying down but ultimately, a sloppy suck was the best. He also said that he had been able to cum at least twice simply from being sucked. On the other hand, Rex said that he normally couldn't cum from a blowjob but Kodi said that he was going to give it a try. As Kodi was obviously raring to get going, the boys stood up and stripped off to their underwear before sitting back down again. Rex and Kodi stuck their hands down the front of their undies and started playing with their cocks as they watched some straight porn on the video. Only a few minutes of wanking got both boys dicks standing to attention so I hinted that they should try out some mutual handjobs.

Without hesitation, Kodi and Rex took each other's cock's in hand and started putting in some hard wrist action. Slowly but surely, the two boys slid their hands up and down a thick shaft, Kodi not even batting an eyelid when he realized just how big Rex's dick was. A few minutes later, Kodi suggested that they remove their underwear, Rex grinning widely as they both threw their boxers on the floor. Dicks in hand again, Rex and Kodi leisurely jerked each other off and it was easy to see that they were enjoying the moment. When it was clear that neither of them were going to get any harder, I told Kodi it was time to suck dick. Even though he had said earlier he was pretty nervous, Kodi immediately leaned over and slid Rex's thick cock into his straight boy mouth. As he got used to the taste of cock for the first time, Kodi wanked his own dick even as Rex lightly ran his fingers back and forth across Kodi's shoulders. Despite this being Kodi's first ever blowjob, Rex said that he was doing well. Upon hearing this, Kodi started trying to go deeper down on the monster cock. Although he sounded like he was choking as he inched his way down the dick, Kodi appeared to have things well in hand. Obviously enjoying the blowjob, Rex decided to help out a little by taking control of Kodi's dick and jerking him off. This left Kodi with two free hands so he started pumping the big dick as he sucked on the head of the cock.

Switching things around, Rex stood up while Kodi slid to his knees in front of him. With no hesitation at all, Kodi swallowed down Rex's dick again, this time, however, Rex gently pistoned his hips back and forth as he dipped his dick in and out of Kodi's mouth. Wrapping a hand around Rex's cock, Kodi fisted the dick even as he sucked on the large head. All the while, Rex was moaning like a bitch, clearly loving the blow job. Kodi was doing such a great job for his first time, that Rex said he was getting close even though he had previously said he didn't cum from oral. Even though Rex was getting close to cumming, it didn't look like Kodi wanted to let go of the big cock which suited Rex just fine as he started to gently face fuck Kodi. As he continued to gain confidence, Kodi experimented a little by leaning down and sucking on Rex's big balls, all the while, shooting the camera a seductive glance. Jerking himself off furiously as his heavy balls were being lavished with attention, Rex suddenly pushed Kodi back and only a moment later, shot his load over Kodi's chest so that it dribbled all the way down his body.

Now, it was Rex's turn to show what he could do. The boys got themselves cleaned up and sat down on the couch, Kodi jerking himself off as he watched the rest of the video. When he was half hard, Rex leaned over and took Kodi's dick in his straight boy mouth. Right away, Rex had Kodi groaning in pleasure as he bobbed up and down on the hardening cock. It wasn't long before Kodi's dick was rock hard, Kodi gently pushing on the back of Rex's head in a hint for Rex to go deeper. From the look of complete bliss on Kodi's face, there was no doubt that Rex was doing a great job at having a dick in his mouth. Suddenly, Kodi surprised Rex by throwing himself into a different position but like a true professional, Rex took it all in stride. As Rex got used to the feel of a dick in his mouth, he took Kodi's low hanging balls in one hand, rolling them in his palm. Kodi was loving the blowjob so much, he started up a little dirty talk, telling Rex to 'suck that cock!' With a tight grip, Rex pumped the hard shaft every now and again, wringing a moan of pleasure from Kodi.

Coming up for some much needed air, Rex stated that he thought he was doing ok for his first time at blowing another guy before diving back down on the dick. 'Feels so good!' whispered Kodi as Rex flicked his tongue around the head of his cock. As Rex broke off again, it was obvious his jaw was tired from all his hard work so I asked Kodi if he could cum by getting jerked off. Kodi didn't answer, instead, he took control of his cock and started to wank off at a fast pace. As his hand flew up and down his shaft, Kodi told Rex to lick his dick, which Rex dutifully did even as Kodi kept wanking. Helping Kodi out, Rex massaged the heavy low hanging balls even as it was clear that Kodi was just about to pop his load. Seconds later, Kodi shot his load over his lower stomach, the cum dribbling down his shaft and into his pubes.