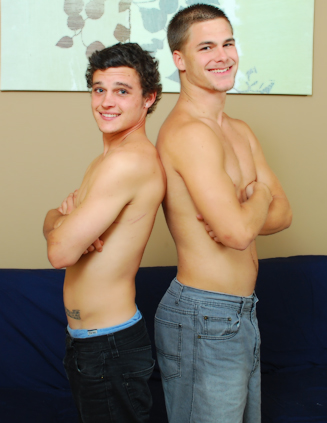 Today we welcome back the ever popular Bobby, who along with Jimmy, will be doing some fucking and sucking. Both boys were eager to get the show on the road so they stood up and stripped off their t-shirts, revealing toned upper bodies. Turning around, Bobby bent over and pulled down his pants, showing off his well rounded ass cheeks to the camera even as Jimmy reached out and gave his ass a few gentle slaps. Bobby sat back down as Jimmy stripped off to his underwear and started playing with his dick through the blue material. Like always, it didn't long for the boys to get rock hard, Jimmy taking off his underwear and throwing them to the side before sitting down next to Bobby. Jimmy indicated for Bobby to help him out, Bobby grinning as he reached over and took Jimmy's dick in hand. A moment later, Jimmy did the same with Bobby's cock, both boys putting in some hard wrist action. They didn't jerk each other off for long as Jimmy suggested that Bobby start sucking him off. Right away, it was clear that Jimmy was loving the feel of Bobby's hot, wet mouth enveloping his dick even as Bobby gently bobbed up and down. Going all the way down, Bobby couldn't help but choke as the head brushed the back of his throat but like a complete pro, he gave the dick a few pumps before swallowing it back down. Jimmy was getting right off on it, even venturing to hold Bobby's head still at one stage and start pumping up into his mouth a few times.

As Bobby worked his magic on Jimmy's dick, Jimmy reached around Bobby's waist and started to jerk him off, all the while both boys were steadily working up a sweat. Jimmy was loving the blow job so much, he claimed that Bobby was better than some girls he had known. All of a sudden, Bobby pulled off, sat back and asked Jimmy if he wanted to do something else. Both boys laughed and teased one another as they got themselves prepared to get down to the main event. Deciding upon doing doggy style first, Bobby got down on his hands and knees on the sofa while Jimmy stood behind him, slowly working his thick dick into Bobby's tight ass hole. As Jimmy inched in, Bobby was groaning in discomfort from the sheer size of Jimmy's dick. Due to Bobby being extra tight, Jimmy was made to go slow, something that Bobby was obviously grateful for. Bobby hadn't been fucked in a while and he was having to get used to the feel of a dick up his ass all over again but it was clear that while Jimmy was being gentle, Bobby was experiencing a lot of pain. As Bobby dropped forward onto his elbows, Jimmy was able to go a little harder, eliciting a groan from Bobby as felt every inch of Jimmy's dick. Jimmy could feel Bobby loosening up so he was able to go harder, even getting dominant with Bobby by grabbing his hair and pulling him back onto his cock. The longer Jimmy fucked Bobby, the more Bobby was getting used to the dick in his ass and he was actually able to start feeling some pleasure as he admitted that it felt better than he had expected. Now, Bobby's moans were not always pained, instead, there was definitely genuine enjoyment.

The boys switched it up, Jimmy sitting down while Bobby moved to sit on Jimmy's thick cock. Holding his dick steady, Jimmy moaned in excitement as Bobby slowly sat down on his cock. Panting heavily, Bobby rose up and down on the dick even as he stated that he was loving it. To make it easier, Bobby held himself still over Jimmy's lap while Jimmy thrust in and out of his ass. However, Bobby couldn't help but yelp when Jimmy thrust up at just the wrong angle so he quickly took back control and rode Jimmy's cock like he was at a rodeo. Up and down.. up and down... Bobby, despite the pained expressions, was loving the feel of Jimmy's dick deep inside of him. Doing something a little different, Bobby leaned forward, bracing himself on Jimmy's knees so that the thick shaft could get the maximum penetration. This new position was something that both boys were clearly into as Jimmy found he could get every single inch of his dick deep into Bobby's well ridden ass. However, it was such an intense way of fucking, they were only able to do it for a mere two or three minutes before Bobby was made to lean back against Jimmy's chest again and continue riding the dick.

Surprisingly, Bobby wanted to try another position so the boys decided to spoon on the sofa. Jimmy was able to slid back home with ease and started to fuck Bobby at a steady pace, all the while, Bobby jerked himself off. The two boys were close to cumming so they wouldn't be screwing for too much longer. Sure enough, as Jimmy pounded his ass, Bobby came, cum shooting onto the sheet covered futon and the carpet. Now it was Jimmy's turn to shine. Bobby lay down on his front while Jimmy tugged on his dick behind him. Minutes later, Jimmy dribbled cum down into Bobby's ass crack.