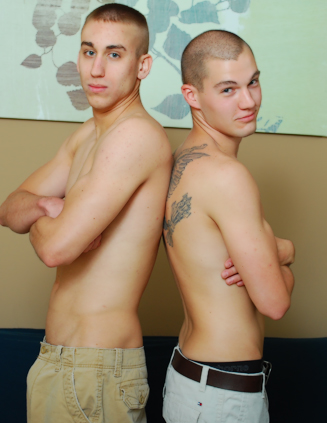 Today is AJ's second time in front of a camera but his first time with another guy, Chad. To start AJ off slow, and not to scare him away, I decided to get Chad to show him how a blowjob feels when done just right. It was easy to see that Chad was quite excited by the prospect of having AJ's dick in his mouth while AJ, was more reserved and a little wary about what was going to be happening. Standing up, AJ stripped off his clothes while an appreciative Chad watched intently. As soon as he was completely naked, he sat back down. As he was still quite nervous, especially as he was now naked in front of a strange boy, I told him to just close his eyes so that he could relax more. While AJ got comfortable, Chad took off his polo shirt, reached over and took hold of AJ's dick.

AJ may have said he didn't want to watch Chad playing with his dick but he couldn't hide the quick grin and small laugh as Chad massaged his balls. Still, it was only a matter of minutes until Chad had AJ's dick almost all the way hard. Of course, it helped that AJ was watching some straight porn at the same time as he was quite shy and needed a little nudge in the right direction. As Chad worked on AJ's cock, he leaned down and licked at AJ's nipple. AJ looked down and watched Chad nibble on his nipple, obviously not sure what to think. Chad then slid AJ's cock into his mouth, slowly bobbing up and down, all the while, AJ looked like he couldn't believe that he was having a guy suck on his dick, let alone a guy who was actually good at it.

I told AJ to put his hands on top of Chad's head and move his hips up and down and even though he was hesitant to do it, AJ gently rolled his hips so that he was driving his cock in and out of Chad's mouth. As Chad was sucking on AJ's cock, he couldn't help but gaze every now and again towards the camera. AJ, still shy and uncertain, declared that the blow job felt good. Switching it up, AJ turned around and got down on his knees on the futon while Chad knelt behind him. Spreading AJ's ass cheeks, Chad gave the well formed ass a slap before leaning in and dabbing at AJ's hole with his tongue. Even as he jerked himself off, AJ didn't know what to think of the strange sensation of Chad's wet tongue lapping at his hole. It was obviously tickling him as AJ was desperately trying to hide his grin. Working hard on AJ's ass hole, Chad took control of AJ's dick and started putting in some strenuous wrist action.

When Chad broke off for a moment, AJ reached around and pushed on Chad's head, a clear indication that, although he probably wouldn't admit it, AJ was liking the rimming. I told Chad to show me AJ's dick so Chad proudly brought AJ's dick between his legs and showed off how hard it still was. Chad also commented that AJ must be liking the rimming too much while all AJ would say was that it was new. As Chad finished playing with AJ's ass, he couldn't help but say that it would be a nice ass to fuck. Chad stayed down on his knees while AJ stood up in front of him, Chad sliding the cock deep into his mouth again. Chad was treating AJ's cock like it was a piece of his favorite candy, all the while, AJ was panting hard as he enjoyed the feel of Chad's mouth around his dick again. Licking up and down the shaft, sucking on just the head and giving the shaft a few pumps every now and again, there was no denying that Chad liked a dick in his mouth.

Soon enough though, AJ said he was close to cumming but was thinking of another person sucking his dick. Almost there, AJ took control of his dick again and started jerking himself off at a furious pace even as Chad kept trying to lick and suck the tip of his cock. Suddenly, AJ let his dick drop from his hand and immediately, Chad swooped in and sucked on the stiff cock, his head bobbing back and forth. A minute or two later, AJ shot his load on Chad's waiting tongue, Chad leaning in and cleaning the cum dripping off AJ's dick.