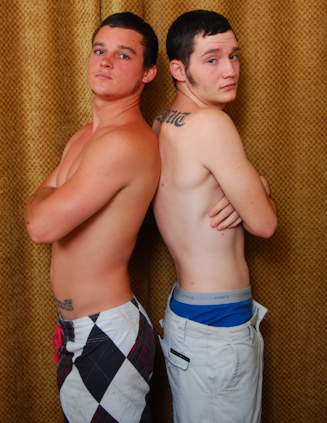 Bobby and Mark on the futon today, looking as hot as ever. Bobby is looking forward to doing some fucking and experiencing how well Mark can deep throat while Mark, who has bottomed a few times before, is eager for the money. The boys stripped off their clothes in record time, throwing them every which way before sitting side by side on the bed. Wrapping a hand around their cocks, Bobby and Mark jerked themselves off, getting rock hard in mere moments as they watched some straight porn. Once Bobby was hard enough, Mark leaned over and slid the cock into his straight boy mouth. Bobby, head thrown back and eyes closed, was obviously enjoying Mark's efforts and was quickly moaning for more.

Mark gave the thick shaft a couple of firm pumps even as he concentrated on just the head of Bobby's dick. Bobbing up and down, Mark pulled out all the tricks and showed Bobby just how well he had been paying attention during his previous visits to the studio. Suddenly, Mark went all the way down, deep throating the long dick and held it for a few seconds. The new sensation surrounding his dick caused Bobby to giggle a little, which in turn, made Mark chuckle even with a dick halfway down his throat. After fisting the shaft once.. twice.. three times, Mark flipped onto his back while Bobby straddled him in a 69 position, except that Bobby was about to show off his athleticism. His dick all the way down Mark's willing throat, Bobby started doing some push-ups. Up... down... up... down, Bobby kept up a steady pace, his arms trembling from battling with the too soft mattress. As Bobby worked hard, Mark concentrated on not choking too much as the cock brushed the back of his throat, however, he couldn't help but gag once or twice. The boys got into a good rhythm, Bobby's dick dipping in and out of Mark's mouth even as Mark played with his own cock.

All too soon, it was time for Mark to get plowed. Mark and Bobby got themselves prepared then Mark got down on his hands and knees on the bed, Bobby kneeling behind him and slowly working his dick into Mark's ass. Once all the way in, Bobby was able to set a cracking pace, his hips pistoning back and forth as he fucked some straight boy ass. As Bobby worked hard, Mark reached between his legs and started fisting his own dick. Moaning on each thrust, it was clear that Mark, even if he didn't admit it, was getting used to the feel of cock sliding in and out of his tight ass hole. The sound of flesh hitting flesh rang out as Bobby drove his hand down hard on Mark's white ass, leaving a bright red hand print for all to see. Bobby was so impressed with the clear hand print, he couldn't help but point to it when I zoomed in for a closer look.

Switching it up, Mark shifted over onto his side, Bobby spooning him from behind. Leg up in the air, Mark tugged on his dick as Bobby slid right back in in one hard thrust. Holding Mark's leg up, Bobby was going hard and deep, making Mark groan in pleasure. Stating that Mark's ass felt 'tight', Bobby sped up, fucking like a jack rabbit even as Mark gasped. By now, it was obvious that Mark was really getting off on being fucked and wasn't holding back anymore. As Bobby suddenly switched to slow and deep thrusts, Mark couldn't help but swear as he felt every inch of Bobby's thick dick. Another few minutes and the boys swapped positions once again. Mark, on his back and legs spread wide, moaned loudly as Bobby worked his dick back into his ass. Bobby rode Mark's ass hard and steady, all the while, Mark jerked himself off. The more Mark got turned on by being fucked, the harder his dick got.

As he tugged on his dick at a furious pace, it was clear that Mark wasn't far from being able to cum while being fucked like a bitch. However, it was Bobby who was ready to shoot first. Pulling out, Bobby tore off the condom and, kneeling next to Mark, wanked off hard, spilling cum over Mark's chest, stomach and the bed. Now it was time for Mark's money shot. His hand flying up and down like lightening, Mark jerked himself off and only a few minutes later, he shot up onto his chest, his cum mingling with Bobby's.