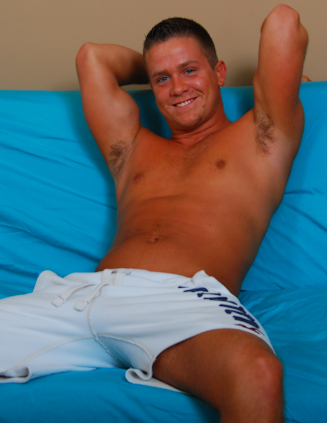 Drake is the newest boy to hit the Broke Straight Boys futon. I contacted Drake via an ad on Craigslist, however, it took him almost five months to get into contact with me after some initial correspondence. At the time of placing the advert, Drake was engaged but wanted to have some extras on the side but once his significant other found out, not only did Drake lose her, he also lost his job. Now, after moving back in with his parents and in danger of losing his car, Drake gave me a phonecall in order to get some fast cash.

As we chatted, Drake said that, although he had never done anything with another guy, he would be willing to give it a try. Standing up, Drake displayed a very confidant personality as he stripped off naked, revealing a somewhat stocky and solid build that had an all over deep tan. As Drake turned around to show off his well formed ass, he couldn't help but laugh as his nerves got the better of him. His butt was so nice, I got him to slap a cheek a few times as I moved in for a close up that I knew the BSB members would appreciate. Drake squeezed his ass and gave it a few more slaps before sitting back down.

Playing with his dick, Drake grinned as he admitted that he jerked off quite a lot, even going so far as to say that his record is five times in one day. With a firm grip on his dick, Drake started putting in some serious wrist action. He wasn't shy about stating that he thought he had a nice cock, a huge smile on his face as he said it. It wasn't long before Drake was panting hard, his hand flying up and down the shaft of his dick. Reaching down, Drake massaged his balls, rolling them in the palm of his hand. At my suggestion, he put his feet up on the edge of the futon, showing off his ass as he kept wanking off. Shifting around a little, Drake pulled one ass cheek to the side so that I could get a clear shot of his virgin ass. Surprisingly, without any prompting, Drake lightly ran his fingers over his ass hole as he got more and more turned on.

With the lure of easy money, Drake was willing to try most things and was more than happy to lick his fingers and rub them over his ass when asked to. When I told him that he had a nice ass hole, Drake grinned widely and started to jerk off faster. Standing up, Drake kept wanking off, his breathing getting heavier by the minute as he got closer to cumming. I wanted to get a closer look at his self proclaimed nice cock so I told him to stand still for a moment and zoomed in with the camera. After telling him that he did indeed have a nice dick and getting a smile in return, Drake fisted his dick in a fast rhythm. I wanted to see his ass again so I had Drake bend over the futon and give it a couple of slaps just to see his cheeks jiggle from the impact. Leaning right over, Drake reached behind and spread his ass cheeks so his hole was clearly seen.

It was obvious that Drake was getting close to cumming so he sat back up on the futon and began jerking off in earnest. His hand flew up and down his thick shaft, Drake only pausing to wet his fingers in his mouth before rubbing them along his cock and doubling his efforts. Moments later, Drake came, cum spurting like a fountain onto the sheet draped over the futon. Panting hard from all his effort, Drake was so pleased with his load, he demanded that I get a close up of the cum cooling on the sheet and of course, I couldn't help but oblige him. Drake certainly earned his money in today's session and I'm sure he will be back in the studio in no time but what he does next and with whom is anybody's guess.