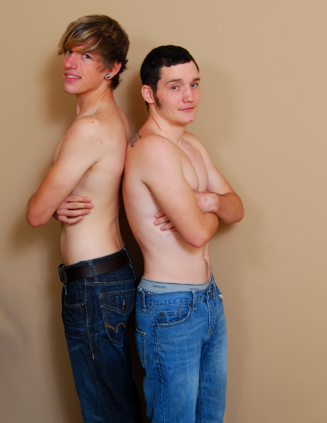 The resident shy boy, Mark, is back in the studio along with big dicked Kevin. Mark recently broke up with his girlfriend because she considered his studio time at Broke Straight Boys to be cheating while Mark thought of it as just work. However, as both boys need some extra dosh, Mark is willing to put his girlfriend out of his mind while taking on Kevin's long schlong. Both boys got undressed and quickly lubed up their cocks, Kevin laying out on the bed, Mark straddling him and licking his balls, all the while, Kevin closed his eyes and jerked himself off.

Right away, Kevin was loving the feel of Mark's tongue running back and forth over his hairy balls while Mark admitted that they tasted good. Reaching up between his legs, Mark wanked off even as he worked on getting Kevin's dick rock hard. With all Mark's work, it didn't take long for Kevin to get a stiffy and as such, Mark slid the thick shaft into his straight boy mouth and started treating it like his favourite candy. Kevin is one of the more vocal boys and he didn't hold back as he told Mark just how much he liked the blowjob, even telling Mark that he sucked pretty good dick. Mark was handling Kevin's size with ease, even as he kept wanking himself off. Every now and again, Kevin would push down lightly on top of Mark's head, hinting for Mark to take the long dick deeper down his throat. Switching it around, Mark slid down onto his knees on the bed while Kevin stood up in front of him, Mark instantly swallowing Kevin's dick again. Like a complete pro, Mark bobbed up and down on the dick, turning his head this way and that in an experimentation to find the best angle. Every now and again, Mark would give the thick shaft a few good, hard pumps before wrapping his lips around the head again.

Soon enough though, both boys were ready to get down to the serious action. Mark, with a not so shy grin, said that he ready to ride Kevin's dick even as he lubed up his ass hole. Kevin lay out on the bed again, Mark facing away from him and straddling him once more, all the while, slowly impaling himself on Kevin's long dick. It was somewhat of an awkward position to start out in but this way, Mark could control what was going on. Slowly but surely, Mark raised himself up and down, even as Kevin encouraged him to 'ride the fucking pole!" Mark, reaching behind and bracing himself on the bed, was able to quickly work up a good speed and was soon moaning on each thrust. To help Mark out, Kevin reached up and supported his weight in order to take the strain off Mark's knees.

For a straight boy, Kevin was totally getting off on Mark's tight ass, even giving him a gentle slap on one well rounded ass cheek. Mark rode Kevin's dick hard, moaning as he bounced up and down. Suddenly, Kevin held Mark still and started fucking him from below in a relentless rhythm. Another slap on the ass and Kevin was fucking Mark to within an inch of his life. Finally, it was all too much for Mark's knees so Mark flipped over onto his back, legs spread wide as Kevin lined up his dick with Mark's ass hole. Kevin, holding Mark's legs apart, slid back home in one slick thrust. Wrapping his hand around his dick, Mark jerked himself off as Kevin set a steady pace. Kevin was fucking Mark so hard, Mark was virtually yelling in both pleasure and pain. Pressing Mark's legs forward, Kevin couldn't help but exclaim at how tight Mark's ass was, all the while, Mark panted hard.

All too soon, Kevin said he was ready to cum, tore off the condom and started putting in some hard wrist action while Mark knelt beside him, his hands cupped and waiting for Kevin's offering. Only a minute or two later, cum spilled into Mark's hands who then, surprisingly, started licking it up straight from his hands. Despite gagging a little, Mark managed to swallow it all. Now it was Mark's turn to cum as he fisted his dick at a hard and fast pace and sure enough, cum spurted into Kevin's outstretched hands. Kevin lifted a finger of cum to his mouth and licked it clean, obviously curious as to the taste of another boys cum.