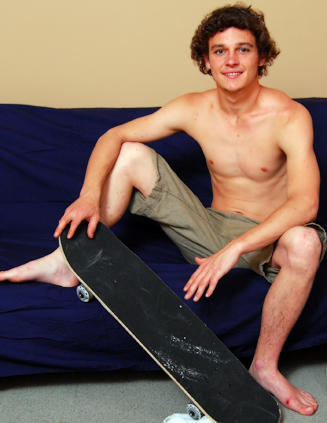 Broke Straight Boys has a new model on the futon; Bobby, whom Matt and I found down at the local skate park. We had spent a bit of time filming some of the skaters, including Bobby, who was tall with curly dark hair and a smooth, lean twink's body. As we were about to drive back home, I saw that Bobby was headed my way so I called out to him and we chatted for a bit before I offered him a lift home, which Bobby graciously accepted. Bobby and I talked about how he was hard up for money so I told him I would pay him $100 to whip out his dick on camera. Although hesitant, the lure of easy money was too much for Bobby to resist so he undid his shorts, pulled down his undies and flopped out his dick.

I then offered him another $100 for him to come back to the studio and jerk off in front of the camera. Again, Bobby wasn't too sure what to think but as he really needed the extra money, he said he would give it a go. Back at the studio, Bobby and Matt settled down on the futon, chatting about what Bobby was going to spend his cash on. Bobby was set on getting a new skateboard and putting any left over towards some bills. Finally, it was time for Bobby to get down to the action so Matt moved to the back of the room as Bobby stripped down naked. With a hand wrapped around his cock, Bobby started jerking off as he watched some straight porn. It didn't take long for Bobby to get rock hard, Matt jokingly suggesting that Bobby should cum all over his skateboard as a bit of fun.

His legs spread wide, Bobby fisted his dick as he ran a hand over his chest and stomach. A moment later, I told him to stand up so that I could get a good view of his well formed ass. Bobby was one of these guys who liked to go natural when they jerk off, preferring their own spit rather than lube so, at my direction, he spat on his dick and rubbed it into his shaft as he jerked off. In a little test, Bobby proved to be quite co-ordinated as he wanked off while doing a couple of tricks on his skateboard. As he sped up his hard wrist action, Bobby started to wobble a bit on the skateboard so he sat back down. Matt suggested Bobby lift his legs and show off his ass hole but Bobby wasn't interested, saying he wasn't gay.

Bobby said he would do it for another $100, however, Matt got him to agree to do it for $50. Lifting his legs, Bobby flashes his ass hole to the camera, pulling apart his butt cheeks. Switching positions, he stood on the floor and with one foot on the futon, Bobby leaned over and faced the wall, all the while jerking himself off. After allowing the camera to get a good view of his ass, Bobby sat back down. Licking his hand, he twisted it around his cock shaft, massaging his balls as he got closer to climaxing. As he was obviously about to cum in the next few minutes, Bobby picked up his skateboard and sat it next to him so it would be handy for when the time came.

Only moments later, Bobby knelt up over the skateboard, cum spurting over the black and white board. Laughing, Bobby apologised for creaming over the couch but I just laughed and offered him another $50 to rub his own cum over his ass hole. Bobby wanted $100 to do it but settled for $75 so, with his legs in the air and a finger full of cum, Bobby rubbed the still warm cum over his ass hole. Make sure you look out for Bobby in the updates!!