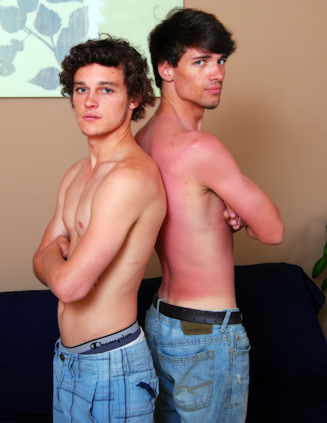 Bobby is back on the futon, along with Darren and today, they are going to do something a little different. With his last paycheck, Bobby did buy a new skateboard but now, he needs $300 to enter a competition, thus, he is here to let Darren suck his dick. Since Bobby has never had another guy near his cock before, he is understandably nervous by what is going to happen. As for Darren, even though he says he is lazy and this is the easiest way to earn some extra dosh, it's pretty clear that he is looking forward to getting down and dirty with Bobby. I offered Bobby an extra $300 to return the favor to Darren but he wasn't interested and that he wasn't gay.

The boys stood up and stripped off their tops, both revealing taut and toned upper bodies. Bobby got all the way naked before sitting back down and playing with his cock, a moment later, Darren sat down as well but still clad in his jeans and socks. Even though he was still a bit hesitant about another guy's mouth on his dick, it didn't take long for Bobby to get rock hard, Darren leaning over and sliding the hard shaft between his lips. Right away, Bobby moaned in pleasure as his cock was enveloped by Darren's hot, wet mouth. Darren was one hell of a noisy cocksucker but as he played with Bobby's tight balls, it was obvious that Darren was well practiced in the art of giving head.

Bobby, relishing his blowjob, admitted that Darren was better than he had thought he would be. I offered the boys $50 each to kiss until I said stop and without any hesitation, Darren dove right in and locked lips with Bobby. Both boys kissed passionately, Darren wrapping a hand around Bobby's dick and jerking him off. Bobby and Darren broke apart, Bobby wiping his mouth even though it was plain to see they had both enjoyed themselves. Darren immediately swallowed the still hard cock, his head bobbing up and down even as Bobby helped him along by gently pushing down on the back of his head. I suggested Darren get Bobby more comfortable so Darren shifted Bobby around a little until Bobby was leaning to one side, his right leg up over Darren's forearm, all the while, Darren sucked on his cock while playing with Bobby's ass hole. Bobby hadn't been expecting something like this to happen and despite his initial misgivings, he decided to go with the flow and see where it went.

I asked Bobby if he had ever had his ass licked, Bobby immediately saying no. However, Darren thought that Bobby might be into it. Turning Bobby around so that he was on his hands and knees, ass towards the camera, Darren spread Bobby's ass cheeks and spat on Bobby's hole before running his tongue along the tight ring. Bobby was shocked by this turn of events but as it wasn't too bad, he let Darren do his thing. As Darren licked his ass, Bobby reached down and jerked himself off before Darren took control of his cock again. Despite refusing to say that he liked being rimmed, Bobby was still rock hard when he stood up, Darren on his knees in front of him. Taking Bobby's cock in his mouth again, Darren went to work with enthusiasm as Bobby moaned in pleasure. Bobby, holding Darren's head still, pumped his hips back and forth as he face fucked Darren.

Bobby indicated that he was pretty close to cumming, so for something a little different, Darren starting doing pushups while Bobby stood over him, jerking off. Soon enough, Bobby splattered cum all over the small of Darren's back, Darren grinning as he felt the cum dripping down his ass crack. Both boys did a great job and with Bobby's 'can do' attitude, I'm sure he will be back in the studio very soon.