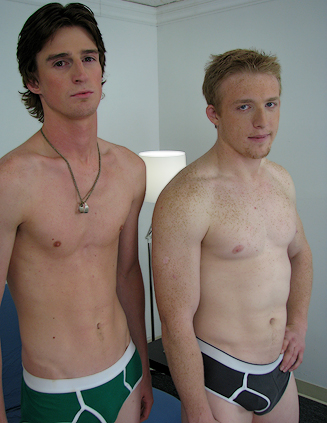 Jase and Charlie are back on the futon today in order to help Charlie expand his horizons in the world of gay sex. Although Charlie is hesitant about doing an oral scene with Jase, he is willing to let another guy suck his cock, however, he isn't sure about wrapping his lips around Jase's dick. Still, I told Charlie to give it a try and that they would both be getting $500 for the oral scene.
The boys stood up, Jase helping Charlie undress by stripping off Charlie's t-shirt before quickly removing his own singlet. The shorts came off next; Charlie was left standing in his navy blue undies while Jase was clad in green underwear. Sitting themselves back on the futon, Charlie and Jase rubbed their cocks through the cotton material of their underwear as they watched some straight porn. Despite Charlie's nerves, both he and Jase joked around a bit as Jase wondered if he should just dive right into it or wait until they were both warmed up a little more. The decision was to get warmed up first, the boys taking off their underwear and throwing them to the side before putting in some hard wrist action with their cocks.

It wasn't long before Charlie said he was ready for Jase to go down on him. With the go ahead given, Jase leaned over and slid the thick cock into his mouth, all the while, jerking on his own longer cock. Right away, Charlie looked like he was in heaven from the feel of Jase's hot, wet mouth, and with one hand on the back of Jase's neck, he gave Jase the hint to keep going. Jase showed that he had learnt some serious skills at the Broke Straight Boys cock sucking academy as he licked up and down the thick cock shaft. As Jase came up for air, Charlie admitted that having another guy suck on his dick wasn't that bad, making Jase grin as he went back down for more.

Jase slid down onto his knees in front of Charlie, licking Charlie's big balls and cock shaft before swallowing the dick again. After a few minutes, I asked Charlie if he wanted to give head to Jase for a total of $800.

As Jase sat next to him, wanking himself into hardness, Charlie wasn't sure if he could do it, however, after a few minutes consideration, he decided to give it a go. With a lot of hesitation, Charlie leaned over and slid the tip of Jase's dick into his mouth. Surprisingly, Charlie took to cock sucking like a duck to water, his head bobbing up and down as he gave his very first blow job even as Jase reached around and jerked him off. Charlie learned quickly; wrapping a tight hand around Jase's shaft and pumping while sucking on just the cock head. Coming up for a breather, Charlie asked if he should keep going so I told him he was doing a great job. Charlie went right back to pleasuring Jase who was obviously enjoying Charlie's efforts. As Charlie worked hard on Jase's dick, I told him I would give him an extra $100 if he got Jase to cum, however, Charlie was working overtime so he either didn't hear me or was ignoring me in favour of the task at hand.

Charlie, his jaw aching, sat back against the futon so that Jase could take another turn on Charlie's dick. As Jase sucked on the head of Charlie's dick, Charlie reached around and wanked him off. Jase licked up and down the hard shaft, all the while, playing with Charlie's balls before pumping the shaft as he concentrated on just the head. A few minutes later, Charlie was too close to cumming fro Jase to continue so the boys jerked themselves off in a race to see who was going to cum first. Sure enough, Charlie came first, cum shooting into the air before it dribbled down his shaft and into his pubes. Only moments later, Jase climaxed as cum cascaded down the head of his cock and trickled over his fingers.

Both boys did very well, with Charlie saying that sucking cock wasn't that bad. As we chatted about what would come next, Charlie and Jase let it slip that they weren't adverse to an anal scene so watch out for these two in the updates!