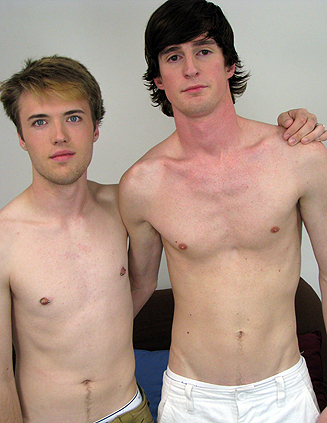 Today, Daniel and Jase are back on the futon to do an anal scene together. They had arrived early in the studio to discuss how it was all going to go down and had decided that Jase was going to top while Daniel was going to bottom. After some brief negotiation, Jase was going to be getting $1000 and Daniel $1200. The boys stood up and stripped off as they each told me why they were back in the studio; Daniel to earn more money to pay some taxes and Jase to pay off a few speeding tickets. Both boys had such a cute ass on them, that I got them to turn around and show the Broke Straight Boy's members.

Sitting back down on the futon, both boys wanked off to the straight porn as they worked on getting themselves hard. In barely a minute, Daniel was hard as a rock while Jase was not too far behind him. To encourage him along a little, Daniel leaned right over and started sucking Jase's cock like a pro. Daniel had obviously been practising outside the studio as Jase was fully erect in no time as Daniel's head bobbed up and down. Licking the shaft and sucking on the head of the hard cock, Daniel had Jase moaning for more. They swapped, Daniel sitting right back as Jase slowly slid the hard dick into his straight boy mouth. right away, Daniel was groaning in pleasure each time Jase went deep. Jase had definitely improved in his cock sucking skills since their last shoot together as he flicked the head of the cock with his tongue and licked up and down the shaft, wanking off at the same time.

Since Jase went a little soft while giving head, I got Daniel to get him hard again. It didn't take long for Daniel to work his magic with Jase's cock and soon enough, both boys were ready to fuck. With the futon opened up and the boys prepared, Daniel got down on his hands and knees, ass up in the air , ready for Jase to fuck. Jase had to take it slowly as Daniel's ass was tight. Once in to the hilt, Jase set a steady pace, pounding into Daniel. Daniel was moaning in pleasure almost right away, loving the feel of a hard cock in his ass. Jase started riding Daniel's ass hard, the room echoing with the loud slap of flesh against flesh even as both boys panted harshly. It was obvious that Daniel was very close to cumming so Jase flipped him over, the minute break taking some of the edge of both the boys.

On his back, knees beside his ears, Daniel held his legs back as Jase immediately started to fuck him hard. Daniel's cock was rock hard as Jase's dick slid in and out of his ass. With Jase fucking him hard and his own hand on his cock, Daniel looked like he was in heaven. Switching it up, Daniel turned onto his side, Jase fucking him on an angle. It was a more difficult position for Jase however, he was able to go deeper, causing Daniel to moan all the more. They quickly switched again to Daniel on his back as the other position simply wasn't working, so, with his ankles up around Jase's neck, Daniel was being ridden hard as Jase was clearly attempting to fuck the cum out of him. All too soon, Daniel announced he was about to cum as he tugged on his cock and sure enough, he shot his load all over his chest and stomach.

Now it was Jase's turn for the money shot. Laying down on the futon, Jase grabbed his dick and wrapped a tight hand around his shaft, jerking off furiously. It wasn't long before he came, cum shooting into his pubes before dribbling down his hand. Both boys did a great job, especially Jase so I ended up telling him I would give him $1200 to match Daniel.