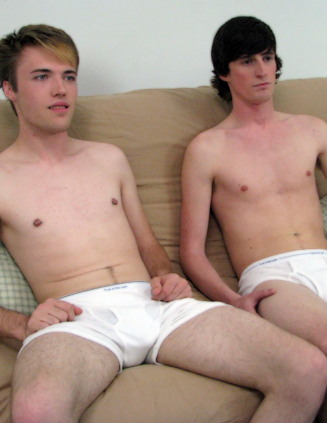 On the futon today is Daniel, along with newcomer, Jase. Daniel is back at Broke Straight Boys to earn enough money to buy some furniture for his apartment while Jase is a 22 year old surfer and lives in California where he bumped into Nu, one of our older models who recommended he come to us as a way to make some quick money. I told Jase that today, we would just be getting him to do some oral with Daniel. The boys decided that $700 each for an oral scene would suffice and even though I usually paid $600, I said that would be fine.

I told Jase to take off his top and as he did so, he told me that he stood at 6' 2", has size 12 shoes and weighed 145 pounds. Jase also said that he has hereditary hearing loss that runs in the family but that his love of loud music hadn't really helped either. He kept stripping down, revealing a lean and smooth body. Daniel took off his t-shirt before both boys ended up stripping off naked. Sitting on the futon, Daniel and Jase grabbed their soft cocks and started jerking off to the straight porn that was playing. As Daniel gets hard pretty quickly, I told him to help Jase out.

Daniel leaned right over and sucked down Jase's dick, his head bobbing up and down. Jase, not ever having a guy go down on him before, wasn't too sure what to make of it, however, he soon started to relax into the blowjob. Daniel slid to his knees in front of Jase, pulling out all the tricks in order to get Jase rock hard. Sucking on just the head and fisting the shaft of the hardening cock, Daniel was putting in some hard work and soon enough, Jase was fully erect. Alternating between licking the shaft and pumping Jase's cock, Daniel had Jase moaning for more before pulling off so that Jase could put on a dollop of lube. Too close to cumming for Daniel to continue to suck him off, Jase wrapped a tight hand around his long cock and wanked off as Daniel watched intently. Quietly telling me he was close, Jase climaxed, cum spurting onto his abdomen before dribbling down his hand.

Now, it was Jase's turn to return the favour for Daniel. As he cleaned up his mess, Jase said that the blow job from Daniel felt different from what he was used to but really good. Grasping Daniel's cock in one hand, Jase leaned over and with minimal hesitation, slid the half hard cock into his straight boy mouth. It was touch and go for the first few minutes as Jase got used both the taste and feel of a cock in his mouth. I gave Jase a few pointers on sucking cock and almost immediately, he was doing much better even as Daniel started to moan from the feel of a hot, wet mouth on his dick. Jase started getting into a rhythm of sliding the cock in and out of his mouth as Daniel gently pushed on the back of his head, hinting for Jase to go deeper but Jase was having none of that. He went right back down on Daniel however, the unfamiliar taste and feel was causing issues so I told Jase he could just jerk Daniel off.

Somewhat relieved by this, Jase wanked him off but, at my request, he gave the blow job another try. Still obviously uncomfortable, Jase, nonetheless, gave it his best shot, his head bobbing up and down as he licked the hard shaft. Despite the taste, Jase even tried a bit of deep throating which had Daniel groaning in pleasure. It was soon clear that Daniel was too close for Jase to continue blowing him so Jase pulled off, and after a bit of lube, Jase pulled on Daniel's cock at a furious pace. Only a minute later, cum spurted over Daniel's stomach and into his pubes. Both boys did a great job and I'm sure they will be back on the futon sometime soon.