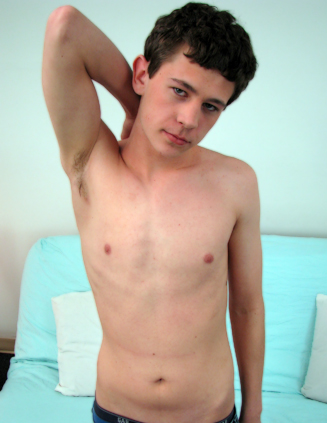 Kyle K is the new boy on the futon today. He is 19 years old, has dark slightly curly hair and brown eyes. Like most of the boys who come to Broke Straight Boys, he is single, straight and of course, completely broke. Kyle is looking after his younger brother as his parents are having difficulties and as such, he is in need of some extra cash so when he stumbled across the ad on Xtube, he decided that he might as well give it a go. I explained to Kyle about BSB and that today would only be a solo shoot where he would jerk off for the camera and that he would earn $200 for his scene.

I got Kyle to stand up and start stripping off, Kyle telling me that he is 5' 10" and although he looks quite young, he really is 19 years old. Taking off his t-shirt, Kyle said he weighed around 135 pounds and his shoe size was 10 while he is from Aurora, Colorado As he kept undressing, Kyle revealed a pale, slender body. Sitting back down on the futon, still clad in his boxers, Kyle decided upon some straight porn to watch as he jerked off.

Although this was his first time wanking in front of a camera, Kyle didn't seem too nervous as he watched the porn while rubbing himself through his boxers. A moment later, he threw his boxers to one side and flashed his long cock and thick thatch to the camera before playing with his dick. Each time Kyle pulled on his cock, he exposed a set of large, low hanging balls. Kyle licked his hand, wrapping around his dick again even as a bottle of lube mysteriously fell onto the futon. He preferred to ignore the lube in favour of licking his palm once more. Soon, it was obvious that Kyle was getting hard even as he pressed down on his balls for extra pleasure.

His eyes closed, Kyle was putting in quite a bit of wrist action. Finally, Kyle reached over for the lube, dribbling some over the cut cock head before fisting the rock hard dick again. Wanking furiously, it was clear that Kyle was getting close to shooting. A quiet word and Kyle climaxed, cum spurting over his chest before dribbling down his shaft and fingers. Kyle did a great job for his first time and I know that he is interested in coming back to do an oral scene sometime soon so watch out for him in the updates.