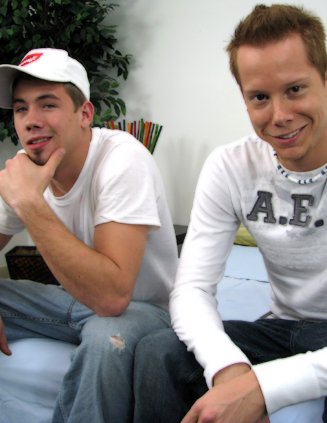 Here at Broke Straight Boys, we have an exciting event; Peter's first time doing anal. Even though I knew Braden wasn't going to bottom today, I still gave him a chance to change his mind by offering whomever topped $1000 and $1500 for the bottom. However, Braden decided that he would definitely top while Peter would be the one losing his cherry. Right from the outset, I could see that even though Peter was nervous as Hell, there was a semblance of the joking atmosphere of their previous oral shoot as we discussed how tight Peter's virgin ass was going to be. I got the boys to undress, Peter showing off his ass for the camera, and get comfortable on the bed.
With some Broke Straight Girls porn playing, the guys started stroking themselves. Braden was hard as a rock in barely a minute, Peter half way to being hard himself as it was obvious he was a little intimidated by the size of Braden's cock. A few words of encouragement and Peter leaned over, taking Braden's dick into his straight boy mouth. As Peter slowly sucked on the hard cock, Braden joked that he had improved since last time and that Peter must have been practising at home. It was time to get the show on the road once it was clear that Braden was so hard, he could crack concrete with his dick. Lube liberally applied and a brief discussion of which position to start out in, the boys decided that doggie style would probably be the best, and as such, assumed the position. Amazingly, Braden got almost the whole way into Peter in a few thrusts, Peter's expression showing just how much his virgin ass was hurting before he had to take a quick break.
In order to ease Peter into it, I let the boys try again off camera, allowing Peter to adjust to Braden's huge dick before filming them again. Just by getting used to a dick up his ass off camera allowed Peter to relax into the shoot and despite some discomfort, it was obvious that he was also enjoying the new sensations as Braden rode his ass hard. I got Braden to take it down a notch for a minute, thrusting into Peter nice and slow before suggesting that they switch positions. Peter lay on his back, legs up on Braden's shoulders as Braden slid his cock into him once again. I asked Peter how it felt, Peter admitting that it didn't hurt but just felt different. It looks like BSB has turned another straight boy into a cock loving bottom bitch. Braden thrust hard into Peter's once virgin ass, Peter moaning as he got pounded. Peter was so caught up in being fucked for the first time, that he even told Braden to fuck his ass! Braden suddenly switched from a hard fast pounding to slow deep thrusts, causing Peter to groan loudly, Braden breathing hard as he got closer to cumming. As Braden continued to ride his ass, Peter took his cock in hand, stroking himself until he was hard.
Surprisingly, it was Peter who came first, his cum dribbling down his shaft and over his hand. It's always hot to see boys come as they are getting fucked! Only a few more hard thrusts and Braden pulled out, tore off the condom, his cum splashing down over Peter's dick and pubes. Both boys were exhausted, Braden panting like he had just run a marathon but happy that they had made some good money today. Despite Peter saying he was 'indifferent' to being fucked, I suspect that BSB has found another boy who might just prefer bottoming. We'll find out another day wether or not he prefers to top or bottom as I know we will be seeing Braden and Peter back in the studio soon.