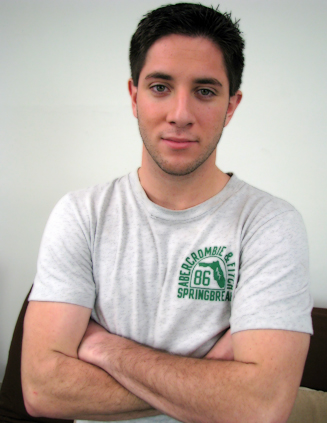 Today at Broke Straight Boys, we welcome a new model; Jake. He is 23 years old, straight and has just graduated as an Engineering Major the previous year. However, the job market is extremely tough and as he had heard on campus about BSB and that he could make some good money through us, he decided to give me a call. Although Jake has had girlfriends in the past, he is currently single and even though he could have applied to do straight porn and has never messed around with another guy, he knew that gay porn paid bigger bucks and he was happy to keep an open mind. Still, whatever the reason Jake has come to BSB, we are happy to have such a good looking boy on the futon. Today, however, he is just going to do his solo shoot.

Jake stood up, taking his top and jeans off; stating he was 5' 10", 170 pounds and that he is somewhat of an athlete. I took a good look at Jake; he was very white with a sold build, had dark hair and eyes and a three day shadow on his jaw line. Talking with Jake about his porn preferences, I found that he had a wide variety of interest including transsexual's, gangbangs and domination. I got Jake to turn around and show the BSB members his nice firm ass, and to just take his white underwear off. By this time, Jake had relaxed enough to actually be fairly confident in front of the camera and I knew that this was going to be a great shoot.

Eyes closed, Jake started to jerk himself off, moaning in pleasure as he listened to the porn playing. Licking his hand, he wrapped it around his straight boy cock, playing with his balls as he got right into it. Every now and then, he would touch his asshole, the feeling turning him on even more. Commenting that he had heard sucking dick was a lot of fun, Jake then asked me if I liked getting my dick sucked, of course, I said yes! Jake's next comment made me blush; he offered to suck my dick for an extra couple of hundred, an offer I had to turn down as someone still had to hold the camera. Jake was definitely one of the more eager models we have ever had appear on BSB and as we continued to chat while Jake fisted his dick, Jake admitted that he was bi-curious as he has had girls play with his ass before.

Sitting on the edge of the futon, gaze firmly on the porn, Jake kept jerking on his dick, his heavy moaning showing that he was close to cumming. A word from Jake and he came, shooting cum up on his chest before it dribbled down his shaft. Jake was breathless from his solo but relieved to have cum and to have made $200. He was excited about the possibility of coming back to do more with BSB and I knew that I was going to have one hell of a hot and kinky scene with Jake, no matter what he did next.