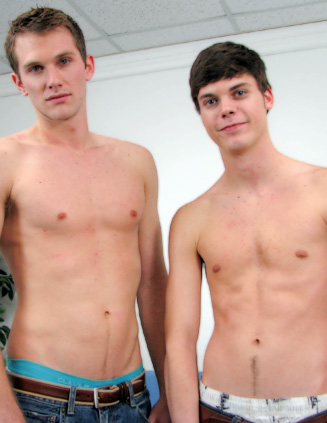 Today at Broke Straight Boys, we bring back Josh and Shane. Both boys have appeared on BSB but not together. Last time Josh was here, he was with his buddy, Mike R, and they had to get some quick cash together in order to buy another four wheeler to replace the one that got wrecked. Josh showed me the foot that got hurt in the accident; it was looking pretty good now and he was able to leave the crutches at home. Asking if Josh was still straight, I got a definite 'yes', while Shane, although he started out as straight, he says he doesn't pay attention to specific labels. In any case, Shane was perfect to help Josh with any nerves that may crop up in the shoot, and lets face it, it's always nice to see Shane back in the studio.
In order to ease Josh into it, I told the boys it was going to be an oral shoot and that they would be getting $800 each and because Josh was so agreeable, I asked if he would kiss Shane for an extra $100. I knew Shane liked to kiss but I was pleasantly surprised when Josh said he would do it.The guys leant towards each other, Shane putting his arm around Josh's shoulders while Josh touched Shane's jaw and started kissing. Right away, the boys both put some tongue into the kissing, both of them relaxing into it as their hands started to wander, Shane sliding his hand up underneath Josh's t-shirt. To keep the shoot moving along, I get the boys to strip off to their underwear but asked them to keep kissing, which they were more than happy to do. Josh and Shane got really into it, both breathing heavily until Shane took control, pushing Josh into the futon and kissing his chest and stomach.
Stripping off Josh's boxers, Shane got down on his knees, took the cock in his mouth and went to work on it. Shane soon had Josh moaning for more, Josh even saying that Shane was pretty good at sucking cock. Sucking hard on Josh's cock, Shane broke off every now and again to lick Josh's lower stomach and nipple. With both boys sitting next to each other and enjoying the heated kissing, It was time for Josh to return the favour. With a couple of tugs on Shane's half hard cock, Josh leaned over and took the dick into his straight boy mouth, Shane relaxing into it almost immediately, Josh breaking off for a moment to get onto his knees and into a better position. From Shane's heavy breathing and moaning, it was obvious that Josh had picked up some skills from his scenes with Mike R.
They opened up the futon, Shane laying down on his back while Josh sucked on Shane's cock and it was only a matter of seconds before Shane indicated he was ready to cum, Josh jerking him off as Shane shot his load all over his upper body. Now, it was Josh's turn so Shane sucked the straight boys' cock for a few minutes before they moved around to where they were both laying on the bed, Shane tugging hard at Josh's dick. A quick nod from Josh and he came, spraying cum all over his stomach. I asked how Josh liked kissing another guy, Josh readily saying that he enjoyed it. These two boys had great chemistry together and all through the scene, they couldn't keep their hands off one another; kissing, licking, nibbling, sucking, moaning and groaning. With both boys saying they wanted to come back in the future, I'm going to work on setting these two up together again sometime very soon.