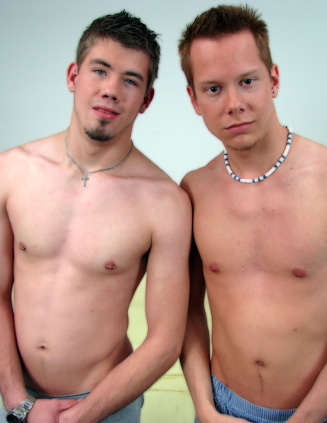 Two Straight boys Getting Comfortable with Gay Sex.
Today at Broke Straight Boys, we welcome back Braden and Peter. I last filmed Braden a few months ago and there was an issue where he is completely straight but trying to do gay porn which obviously makes him uncomfortable. However, there was something about Braden that I really liked; 19 years old, hot smooth body with a bad boy look. I wasn't actually going to bring him back to BSB but every time I looked over the photos from his last shoot, I liked him even more, so, when he called me up out of the blue, I decided to go with it and see what this straight boy was willing to do for the right price.
This time around, I thought I'd set the shoot at a slower pace and hopefully, ease Braden into it. I paired him up with one of our other new models, Peter. He's a 22 year old college student with strawberry blonde hair who, like all our straight guys, needed to make some extra money. Peter was a bit shocked and nervous when I told him I would be putting him in a dual jerk off solo for his first time. However, Peter was prepared to keep an open mind about what goes in the BSB studios which is a quality I like to see in the models that work with us.
I got them to strip right down to their underwear, explaining that I would be paying them $300 each for this scene; an amount they were both happy with. With Peter being the new guy, I got him to stand up and show his ass to the camera so that everyone could see how nice it was, Peter laughing as he relaxed more into the shoot. While Peter was flashing the camera, Braden had already stroked his dick into a huge hard on. Braden held the bottle of lube next to his erect cock, showing off how big his dick was... they were both basically the same size, Braden's cock only a little slimmer! Peter laughed and said that his own dick was a monster when hard.
Peter was soon nice and hard, his cock a good size as well, his balls hanging low while Braden started playing with his own pierced nipples. A few minutes later, Braden said he was ready to cum, splattering the futon and his hand. Eyes closed, Peter started jerking off in long hard tugs, still, he couldn't help but sneak a few peeks at Braden's cock and it wasn't long before Peter also came, shooting all over his stomach. I proposed that they come back for an oral shoot together sometime soon, both guys saying that they would be up for it. Hopefully, I'll even be able to get them to fuck for the camera in the near future.