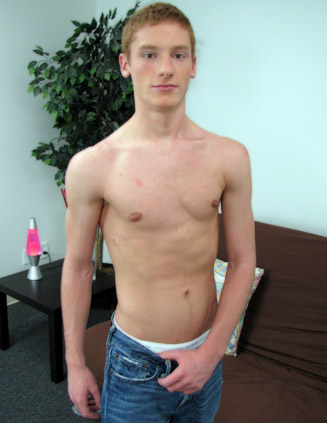 Here we introduce Scott. Scott is 19 years old. Reddish Blond college student that is broke. Scott is also a curious dude, he has never been with a guy before but is willing to keep an open mind and try new things. Since Scott is a bit nervous, I figure I will start him off doing a solo and see how he does in front of our cameras. I did explain to him the more he's willing to try new sexual positions and have sex with guys, the more money we can offer him. Today we are going to give Scott for his solo scene $200.
I had Scott stand up. He's 5'11, weighs 140lbs. As he was taking off his shirt, I noticed he was really toned smooth boy. Really hot body and he does work out some. He then removes his pants and he has a really nice bulge and ass to him. I had Scott bend over, but he's very awkward and new to this whole thing of gay sex and doing porn. I spoke to him about jerking off and when he started jerking off and asked him a few questions about when he started jerking off. I then placed on some porn and had him jerk off and get hard.
He got hard pretty fast and he removed his undies. He has a really nice cock, I would say its about 7.5-8" cut. As I was filming him, he continued to stroke his hard cock and then he lubed up his cock some and continued to jerk off. At this point, I just filmed him and watched the action through the lens of the camera. I knew this boy was going to be a winner just on how he stroked his cock and how comfortable he started getting in front of the cameras. I know from experience after a while, the model will go into there own zone and after a while they forget about the camera and do there own thing. In the case of Scott, he really got into his zone and stroked his cock as he was moaning and groaning and watching his stomach muscles flex as he jerks off his long cock. Scott not only has a huge long cock, but he also has a nice pair of balls as the lighly bounced as he stroked his cock. As he stroked, his dick got really hard and throbbing and then he spurted out his cum. He produces a lot of jizz as streams of cum was shooting out of his cock head.
Once the scene was over, I knew he was going to be a winner and I invited him back again to do more filming but this time, I'm going to place him with other hot boys and lets see what he can do next.