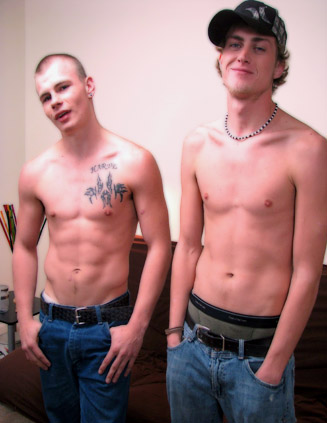 There Shane was sitting on my couch ready to begin another shoot, and make some more money. I noticed as he was sitting there that he had a new shirt on, and I didn't recognize the name. When I asked him about it he said that it was the name of a new company that he was starting up, and he got the idea a few weeks back. Talking to a friend, the guy had on a new hat, and Shane asked him how much he paid for it. The guy told him $25 for the hat, so Shane figured if people would spend that kind of money for a design that wasn't very good. He could come up with something much better and really hit it off. I thought it was a great idea what he was doing with the money, and he was using the shoot money to help support his operation costs of his new business. I told him that I would even try to help him out with selling some shirts.

Getting to the real reason he was in the room, I brought up the fact that he has now gone through and done everything. However, we want him to continue doing more, because the members like Shane. That being said I had him start by removing his shirt, and standing up for me. Shane had a couple of tattoos, one on his side, and another on his back. Next to go was his pants, and as he was getting them off, I joked around with him in asking if he was still straight. Shane said that he was, and that he has a girlfriend that he keeps in the dark about this line of work. I explained to him that I was going to pay him some money to do oral with a boy that was going to be in soon, his name was Nathan, but in the mean time he could sit down on the couch and start getting hard to the porn. Shane probably ended up waiting for about 10 minutes, but Nathan knocked on the door when he was ready and came right in. Taking a seat on the couch I introduced the two of them, and I asked Nathan to share his story with us. He is 19 years old, has a job, and wants to go to massage school, but with his current pay he can't seem to make enough to pay for it. Nathan is straight, has a girlfriend who doesn't know he was trying porn, but her identical twin knows that he was.

Nathan was still fully dressed and he needed to catch up to Shane who was in his underwear with a boner in his hand. Taking off his shirt, he stood up and told us about the tattoo that he had on his chest. Dropping his pants to the floor, I asked him if he worked out, and Nathan said that he has never worked out a day in his life. But, the body he had was from the navy, and he has kept it ever since. The navy has done him well, he had a great set of abs, V-lines in his pelvic area, tone chest and arms, muscular legs, cute face, and the underwear that he had on look hot. Taking a seat on the couch, I asked him if he was ready to begin. He replied that he was, and I had him start by helping to take Shane's underwear off. From that point, the rest seem easy, he start by grabbing hold of the dick, and then sucking on the tip. The more that he got comfortable with it the further down on it he would go. Shane seemed to enjoy the oral, and the straight boy's first dick sucking was going well. After a while though I did have them switch.

When it was Shane's turn, he wanted to wait for Nathan to get hard before he would put it in his mouth. However, he had been here enough times, that I wanted to watch him get Nathan hard from just oral. He put the tiny limp dick in his mouth and started to suck on it. It took a while for Nathan to get turned on, but once he did the cock filled Shane's mouth as he gave the blow job. Shane wanted a break when his jaw started to hurt and so I had Nathan jerk Shane off next, to see if he was any good at giving hand jobs. Nathan's technique was slow and steady, and Shane just sat back very calm. After some time, I noticed as Shane's body started to tense up more and more, causing him to start to show signs of having an orgasm. When he did he started yelling, breathing really hard, and then thick, white, cum shot out of his dick. After that I let Nathan get cleaned up and Shane take a minute. Nathan said that he just wanted to jerk himself off and he was fine in not having Shane help him. It didn't take long for Nathan straightened out his body and then he came right on his stomach and you could see it really well. Nathan did a great job, so I hope to have him back in the studio to try some anal.