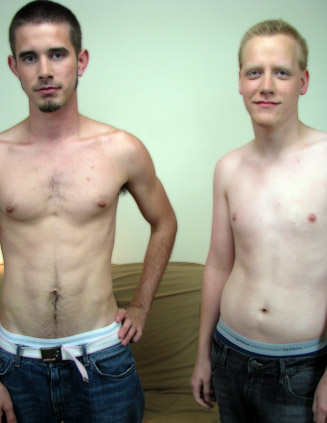 I had Ben in the studio because I had him paired up to do another shoot with Kevin, because the last time they were in the studio the two of them jerked off next to each other. The purpose of me bring them back was because I wanted them to do oral and hand jobs with each other. Ben had never tried either with a guy before, but he really needed the money so he was willing to try. We were only left waiting for Kevin to show up, he had called right before the shoot and was running late. When he was ready to join us, there was a knock at the door and he came in, taking a seat on the couch next to Ben. I explained everything to Kevin to see if he would be on board with making $500 for trying oral in the shoot. His was the same response as Ben's, and that it was only about the money. Kevin was planning on spending his money on a down payment for a car, and Ben was planning on paying some bills with his. To get started the guys had to start by removing their shirts. Kevin had some color to his skin tone, while Ben was pale white. Not stopping there the guys took off their pants, and I told them to stay in their underwear until they got hard.

The two of them sat on the couch rubbing their dicks to try and get them to grow so that we could move on in the shoot. It didn't appear as Ben was doing much, and he said that he was hard and ready. I had him stand for me and remove his briefs. His cock was hard, curved to the side, and I had him spin around to show his ass to the camera. Just for fun I had Ben slap his ass, after that I tried to get him to bend down to show the camera his hole, but instead he did a squat. Returning to the couch I gave Kevin a few more minutes, and then asked him to stand for me and do the same as Ben. Both guys didn't have bad asses, only Kevin's just had a little more color. I asked the two straight boys as they sat there, which one was going to volunteer to go first with the dick sucking. Neither one wanted to step up to giving it a try, commenting that they weren't looking forward to it. That's when I just kind of put the pressure on Kevin to go first, and he said he would do it. Kevin grabbed it with his hand and from there he lowered his mouth right down to the tip of Ben's dick. Putting the cock in his mouth, his lips formed a seal around it and he started to move his mouth around. The longer that Kevin went the more that Ben got turned on and he made noise. After a while I had the guys switch and it was going to be Kevin's turn to get his dick sucked.

Kevin got back to focusing on the porn that was playing and he stroked his dick to get hard. It didn't take long for him to get hard, and to change things up Kevin took a seat on the back of the couch. As he was in place, Ben moved in and grabbed Kevin's cock directing it towards his mouth. Ben started moving his lips and down the shaft, and I asked Kevin how it was so far. He responded by saying that it was a little weird, but he was just tried to focus on the porn instead. After a while Ben must have hit the right spot, because Kevin put his hand on the back of Ben's head to control how fast the dick sucking went. Changing positions so that Kevin could lay down, Ben continued to suck him off for a bit longer. I knew that he was getting tired and that's when I told him to just jerk Kevin off. With some lube Ben squeezed Kevin's dick and pumped it just like he would his own. As Kevin's muscles began to get tense, his body turned red, and it was all signs that he was getting close to shooting his load. That being said Ben switched hands and that's when Kevin came, shooting his load on his stomach. Ben jerked it only a few times after that. The guys cleaned up and then Ben grabbed some lube to jerk off with. I didn't let Kevin get away with not helping he played around with Ben's balls to help him get turned on. After a few minutes, Ben gave a warning that he was getting close to shooting his load. When he did cum, I could tell that he had saved up his load for a couple of days. I told the guys to go get cleaned up, and while they did that I would get their money ready. Who knows maybe in a few more days I will talk to them about coming back to try anal.