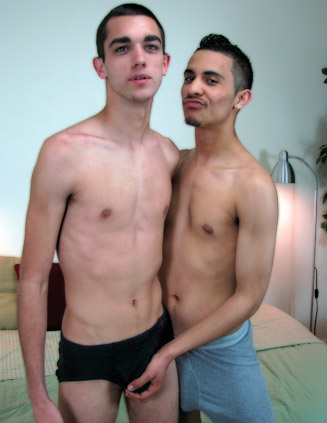 Marlin and Damien have both done shoots together before and the last time they were in the studio
they both did a shoot where Damien bottomed for Marlin. Well, my point in bringing them back was
to see if I could get them to flip flop and for Marlin to get a chance at having a cock up his ass. I
explained what they each were going to make for doing the shoot, and both were ready to get
started. As they began to get undressed, I commented on Marlin wearing so many layers of clothes
while being in South Florida. He said that he just likes to look good on camera, and that he doesn't
care what people think of him. Damien was waiting for Marlin to catch up with him, and I had him
show his arm pits to the camera. Going for their pants, both guys got down to their underwear, and
Marlin showed his bare ass to the camera. He also had issues with taking off his socks, but when he
did his feet looked fine.

Damien was going to need some help getting his dick up, so it was Marlin who was going to need to
give head first. As Marlin's lips sucked on Damien's cock to get him hard, Damien made a comment
that the blow job was actually pretty nice. That's when I asked him his thoughts on if more guys
experimenting with a guy sucking their cocks. His response was that he felt that if guys would try it,
probably more would be inclined to do it more often. Marlin concentrated on sucking on the top half
of his dick most of the time, but every once in a while he would break to lick it. Damien's dick was
rock hard and ready to fuck, but before jumping to that I had him return giving oral to Marlin. Marlin
made the comment that Damien needed to come out of the closet, and I asked if his girlfriend still
didn't know about him doing this? He said that she just knew that he was coming to Florida for
work, and was always happy when he returned home with a handful of cash for the short time that
he was down here. Pausing after feeling like Damien was going to gag on the cock, I pointed out it
was a good chance for them to move towards fucking.

I asked Marlin how he wanted to start out and he said doggy-style and then he wanted to finish up
on his back. Handing Damien a condom, he put it on, and then the two of them used some lube to
get ready. Getting into position, Marlin made a quick decision to start off on his back instead.
Putting his legs up in the air against Damien's chest, as the cock started going in his ass Marlin
started goofing. Once he started to relax than Damien could move a little faster, and they dropped
one leg making it easier to see the penetration. Reaching to grab the back of Damien's leg and ass,
Marlin was handling it well. When Damien asked him if he was enjoying it, he laughed and said no.
Damien's dick slid out and as he stroked his dick for a minute to get it back hard, Marlin flipped over
on his knees wanting to try the doggy-style position. Both these guys liked working with one
another, because they joked around constantly and laughed a lot. Damien's dick popped back out,
so when he put it back in his cock slid in without any resistance.

Damien rolled Marlin over on his back continuing to fuck, and Marlin went along for the ride. Damien
was turned on, horny, and wanting to keep fuck, so that he would be able to get off. Marlin got
started stroking his dick to work on getting off, and so as he was pumping his dick. Damien just
looked ahead focusing on what he was doing, that was until he announced that he was about to cum.
He pulled out and started to stroke his dick, along with Marlin. Watching the two of them, ready to
shoot their loads, it was Marlin who came first. When he shot his load, it landed on his stomach and
was very runny. Afterward I moved back to watching Damien and he was able to cum, with it
dribbling down on Marlin. Covered in cum I told Marlin that he should get up to smear the cum all
over Damien, so he did causing Damien to step back. The two of them hugged getting cum on the
both of them, immediately wanting to go hop in the shower they said their good-byes to the camera
to wrap up the shoot.