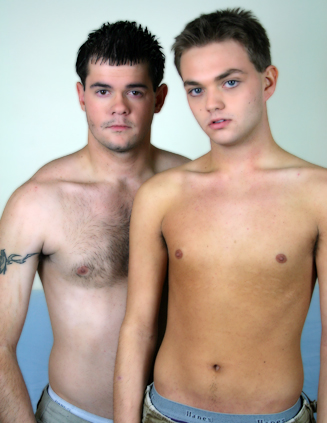 Bringing back into the studio Landon and Max, the duo pair that seemed like big brother little brother. I wanted to see if I could get them to do one more different shoot for us, and that was another anal scene. The last time they were in Max made $1000 for topping Landon, who walked away making $1800. Now, I was asking them to trade places and Max to take the cock up his ass for $1800. At first he joked around about it, but we had talked on the phone about it ahead of time, so he would have a heads up well before he came in to do the shoot. That's when I noticed Max's shirt and had him stand up to show off his blow job shirt. Max said he would give it a shot, and Landon was happy with making $1000 for topping. I asked the guys to stand up to get undressed and both hopped up stripping off their shirts quickly. Dropping their pants next, they didn't hold back with their underwear either. The guys were left standing naked and they took a seat on the couch, while the new porn got started playing for them to watch.

The boys started playing with their cocks to get them hard, and after a while I asked Landon to give oral first. He leaned over and put the want-a-be big brother's cock in his mouth and started sucking. As his mouth went up and down on the shaft, he twisted his head around in different directions to get Max rock hard. After a few minutes of the blow job, I asked the two of them to switch and for Landon to get a turn. Landon's dick was soft when Max got started, but I noticed that Max's mouth locked around Landon's cock. Landon's dick started getting hard and as Max continued the cock got harder the longer they continued. I didn't see any real reason to have them do oral for too long considering that everyone wanted to see them fuck. I had them stand up and get ready, and change the couch into a bed. Max got on his back and spread his legs wide apart, while Landon put a condom on and continued to keep his dick hard. As he sat behind Max, Landon tried to push his cock inside Max's tight virgin hole, but wasn't having any luck. One of the problems was the position of Max's ass being too low on the bed. I had Max get in the doggie-style position to be at a better level for Landon to just be able to push right in.

Once Landon was hard enough to be able to make another attempt to push his way in, he tried a couple of times but didn't get anywhere. Both of them were getting frustrated and in a chance to save things, I told Max to get back on his back and I handed Landon a toy. I wanted to use the toy on Max in order to get him to loosen up in order to take a dick in his ass. One thing that I had noticed before in earlier shoots was that when Max would jerk off his legs would automatically lift off the couch. Since it was a tiny butt plug it didn't take much for it to go all the way in. After letting it sit there a minute, I had Landon pull it in and out a couple of times. That's when we changed the toy out for a real dildo that was going to stretch that hole. Landon just guided it right in the straight boy's hole and Max would go into shock from the feeling. I had to keep telling him to breath in order for him to relax and get comfortable with it. So far he was taking the toy well, so I had him get back in the doggie-style position for Landon to continue to work his hole.

Once Landon even was comfortable he actually started to break out of his shell and asked Max if he liked the toy. Telling him to even moan and slapped him on the ass a couple of times. Max seemed to keep his head low when Landon picked up the pace with the toy going faster and deeper. Since it seemed like Max was warmed up, I wanted Landon to give it another shot. This was Landon's first time fucking a dude, so he was nervous with trying it. He actually stopped everything and admitted to the camera that he felt he was a better bottom than he could be a top. I explained to them that they weren't going to make their original amounts since they weren't going to fuck, but if they banged one out real quick they would still walk away with a good check. Both guys weren't professionals, just motivated by money to branch out and try to explore their sexuality. As they got back to watching the video and stroking their cocks I went back and forth between the two of them until I got a warning of who was going to blow first. Landon let out that he was close and he shot his load with it landing right at the base of his cock, while at the same time he was rubbing his chest with his hand. He had a great orgasm and cum shot, that left him relieved afterward. I moved over to Max who had his feet up off the couch as he stroked his cock. Landon even reached over and rubbed Max's thigh to help him get turned on, and Max let out that he was about to cum. He shot his load on his stomach with most of it getting caught in his pubic hair. They still pulled off a good shoot and learned some more about what they like to experience.