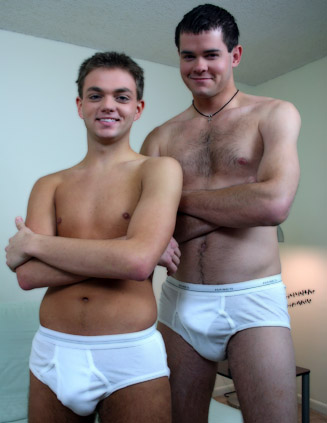 This shoot was just after Max and Landon just did their oral scene and I invited them back to the studio for a chance to make the most money that they had ever laid their eyes on. I explained to both of them as they sat there on the couch was that they had done oral and that Landon was interested in topping. So, putting Max on the spot I said that he was going to bottom and walk away making $1500. Money in which, he said just before the shoot that he desperately needed. However, Max started to hold back and said that he would top instead for the lesser amount rather than take a dick up his ass. Going back over to Landon who was being quiet, he said he was open to the new experiences, and being bi-sexual he was trying to explore what he liked sexually. The twink boy said that he would try bottoming if I upped the pay to $1800, and I agreed knowing that Max was missing out on the money. But, Max said that with the $1000 he could still make two car payments and walk away with some gas money as well. Landon was going to school for psychology, so his money would go towards books and tuition. Max's excuse for doing the shoot was that he was horny, and in his private life he messes around with girls.

Taking off their shirts, they both stood up next to each other, and right away they looked like they could pull off little brother, big brother scenarios. Going for their jeans next both guys had on white briefs that looked like they just came out of the package. Taking a seat back down on the couch I explained to them that I wanted both to get hard, before they went on to doing some oral with one another. That would lead right into the fucking, before they gave cum shots. Max was quick to get hard, so I had him start with giving Landon oral first, because he was struggling. Landon reached around to grab hold of the straight boys cock and jerked him off, while he gave head. Sure enough Max seemed better this time at giving oral, because Landon got hard, and his cock was much bigger in this shoot than in the oral scene. Switching Landon took the monster cock in his mouth and worked on sucking it to get it covered in spit. Placing his hand on the back of Landon's head Max wanted him to go a certain pace and depth with his mouth. Landon's tongue came out licking the tip and shaft of Max's cock, and he was clearly ready to fuck.

The boys got into position with Landon in the doggy style position which he wanted to try first. I just warned Max that this was his first time, so let him warm up to the dick being in his ass. Then, from there he could go fast and hard, and so he began to push his dick inside the twink's virgin butt. As Max began to pull out and push back in, Landon started to make more noise and become vocal. With a little bit of time Max was able to move at a steady pace, making the two of them hot to watch. When I came back around after watching the penetration I noticed that Landon was arching his back more and more making the fucking uncomfortable. That was a great spot for them to change position, and I had Landon flip over onto his back. Max fucked his "little brother" hard in the ass, as Landon worked on playing with his limp dick to get it hard. The more intense things seemed to get between the two of them, the harder Landon got. I noticed that Landon's breathing started to get faster and he began to have his orgasm. When he came, his cum shot all the way to his nipple and down to the base of his cock. Max continued to fuck for about another minute and then pulled out quickly to shoot his load all over Landon's balls. Afterward Max made the comment that a guy's ass felt just the same as a girl's ass, so I told him to remember that. Both of them were ready to get cleaned up so I turned the camera off and called it a shoot.