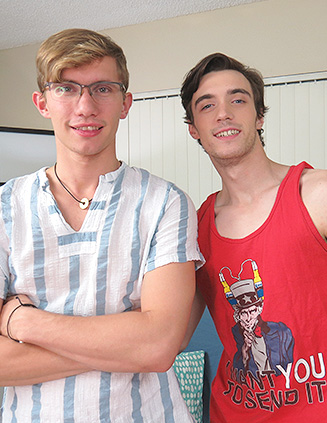 Ricky's hand touches Darron's leg while the boys slowly make out on the deep blue sheets. A gently caress from Darron's fingertips against Ricky's nipples increases the temperature a degree or two. Sliding to his neck and then his chest, Darron kisses Ricky deliberately, his hand now resting on Ricky's hard cock, still concealed by his bleach-white underwear.
Now the hard cock can feel Darron's mouth's slow kiss. And the underwear comes off. Suddenly, Ricky's huge dick is enveloped by Darron's mouth, sucking to perfection as Ricky enjoys the sensation. Darron's expert cock-sucking skills are on full display as he plays with the tip of Ricky's penis. Stopping to lead the moment further, Darron motions Ricky to touch him. He responds with a quickly jolt to lay Darron on his back, and kissing him down to the cock where he, too, removes Darron's underwear and begins sucking on the massive dick presented to him.
Darron pulses his hips to help out this newbie, fucking his mouth gently and getting to fill his throat. While he does this, Darron also plays with Ricky's ass, priming him for the rimming he was so promised. Moans escaping his mouth, Ricky has never before felt this sensation. Seeing him getted tonguefucked for the first time is like nothing else. "Jesus, that's tight," Darron tests Ricky's asshole with a finger.
He is going to have to work hard to loosen up Ricky's hole and slide his unusually-large cock inside him. Darron coaches Ricky through, with 'just breathe' and 'relax' while massaging his cock and balls. Finally ready to test out his limits, Ricky prepares to sit on Darron's cock. He slides himself down, first just getting the tip and pulsing ever so slightly on it. "Fuck that dick is stretching me out," he comments. His determination gets stronger as he attempts a deeper dive of Darron's cock into his asshole. Now filling himself to halfway down the thick shaft, Ricky continues to bounce.
Finally making it all the way onto Darron's shaft, Ricky is ready to bend over and take it from Darron. His gigantic dick fills the tight, virgin asshole. "Okay, you can move faster," Ricky gives the go-ahead for Darron's dominating side to come out a bit more. He mounts himself on top of Ricky and takes control of the situation. Rolling to his back, Ricky takes, onces again, the big cock with pleasure.
"I didn't expect it to feel this good..." Ricky trails off as he takes Darron's cock harder and faster. His moans between breaths say it all as he lets Darron do whatever he wants with him. Pleased with how he has converted such a skeptic, Darron gives it harder until he is about to cum, vigorously playing with himself until he shoots his load high into the air. Ricky follows suit, as he has all evening, and spills his cream, which Darron tastes and approves of.