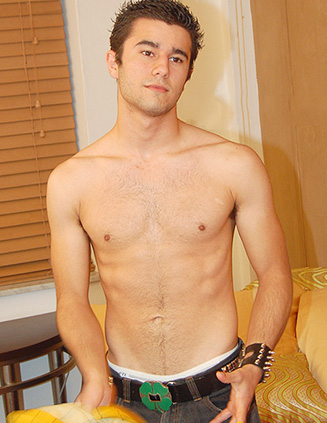 College student Jake is attending the finger of universities studying criminal justice. Like most college kids, he is desperate for cash and is willing to jerk off on camera to earn the big bucks. Jake will be drawing on his memory of the best sex he's ever had - a totally pierced-up girl with nipple rings, a tongue piercing, and more.
When he strips his shirt and jeans, Jake shows off his own body while he shares about his fantasies of fucking girls in the ass, getting blowjobs, and fucking a line of lucky young women. He strokes his cock, eyes fixed on the naughty tv channel that is playing scenes from his fantasies. His cock hardens.
Strongly sticking up, erect in his palm, Jake's dick demands attention. He rubs himself faster, using lube to decrease heat and friction. His hair spiked with gel and the studded bracelet on his wrist moving back and forth with his hand. He plays with his tip, and stares at the camera with a smile.
Playing with the positions, showing his ass, his balls, his beautiful college cock, Jake is having fun with this new money-making hobby. "I really want to cum," he declares, and, when given permission from behind the scenes, he blows his load of cream to cover his hand.