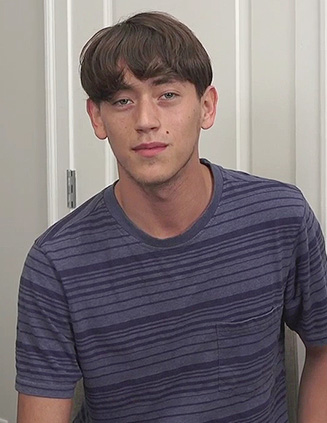 Back to the basics, the good ole' days, get to see the best of Ethan Steel. He's a 20-year-old sex machine from Utah originally, then Phoenix Arizona. This sexy steel-eyed hunk knows how to kiss guys and make them suck his dick. His thick, uncut cock is a stage-stealer when it gets hard and ready to be sucked by any guy who will make it worth his while.
But Ethan doesn't just demand oral pleasure, he gives it as well. With his teasing tongue and gentle-yet-firm touch, Ethan Steel commands the bedroom via cock-sucking. This powerful top has all the right moves to smash prostate and fill assholes. Whether it's getting cum sprayed on his stomach, or spraying cum onto some guy's cheek, Ethan knows what he wants.
He's not afraid to get dirty, playing with ass and licking it with a hunger rarely exhibited by straight boys, Ethan pleases the sexiest of broke boys. Watch this compilation to see every angle, every lick, every thrust of Ethan Steel's hips as he fucks his way through all the straight boys.