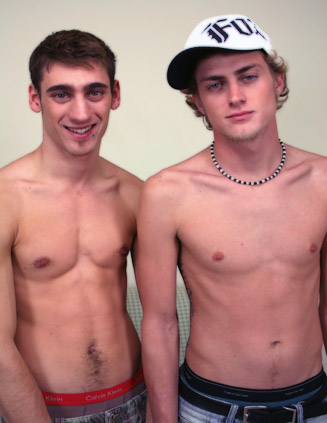 Let me introduce you to Gino our 21 year old, broke straight boy from Argentina who is visiting the US to go to school on a swimming scholarship. I brought him into our studio to see if he could start out with a casting couch shoot and then from there I thought that I would look at pairing him up with some other models. When he arrived for his shoot, we got all the paperwork out of the way and then I moved him right over to the couch so that I could get to know him for the first time on camera. He explained why he was in the US, and that he loves to swim, and pretty much does that every night. Besides that he has a girlfriend here in the US that is a little older than him. His English is a little off, so I just had to reword questions sometimes so that he would get what I was asking. She told Gino that she would love to see him have sex with another guy, and that actually was his reason for calling us up. Not just doing it for the money, but he has never been with a guy before so wanted to get some experience before doing anything in front of her since this was her fantasy.

I told Gino that to start he was just going to do a jerk off scene and then from there we would look at pairing him up with another model. That we wanted to see what he looked like first, and then from there we would get a good idea with whom to pair him up with. He was ready to get started, so I had Gino remove his shirt. Underneath he had golden skin color, smooth, and a tone chest. He stripped down, out of the rest of his clothing and was left there naked on the couch starting to play with himself. That's where we discovered that Gino was uncut, and it's very rare for us to get an uncut guy. Thinking about it, Gino just maybe our first and he had a good size cock on him. As he played with his cock, it grew in size and stood straight up, but after a while he started going limp. He asked if there was any way that he could get some help, either by a guy or if his girlfriend could come down. I asked him what was up, and why he couldn't get off for us. Gino said that it was just being in front of the camera for the first time that was making it so difficult.

Looking at my schedule for the day, I had another model that was supposed to be on his way for another shoot. I told Gino to watch the porn and then once I could get the model to agree to do the shoot I would bring him in. I called the model up that was on his way and briefly explained that I needed him to do more than originally planned, but for doing that he would make more than he thought he was. I went in to check on Gino who was still watching the porn and his cock was pretty hard, and I gave him an update on what was going on. When the model arrived he knocked on the shoot room door and came in. I introduced Shane to Gino, and then I got right down to what was going on. We got into the story of why Gino was doing a shoot and wanted to get some experience with guys. It then became clear that Shane was getting interested in the possibility of fucking Gino's girlfriend if all he had to do was let him suck his dick.

Since Gino was so eager to suck a dick, I told him to go ahead and give Shane head. He reached over took the cock in his hand and then lowered his mouth down to it. In watching Gino he put some of the cock in his mouth and created the up and down motion. I told him to make sure to jerk him off as well, so that he could get two types of stimulation. Shane seemed to be enjoying the oral, because he put his head back and just kept his eyes closed. In watching Gino some more he was good about changing things up and not doing the same thing for too long. Then, he jerked Shane off and kept his mouth right there at the tip of Shane's cock, occasionally licking the tip. That's when Shane's cock exploded and cum went all over Gino's face, and Gino tasted cum for the first time. That was very hot to watch, and I even had to admit that they made me want to have a cigarette after that and I am not even a smoker.

I wanted to see if Gino could get off, so I had Shane start giving him oral. Gino liked the blow job, because he was thrusting up into Shane's mouth. I thought that we would be right on our way to him giving Shane a facial as well, but then Gino's dick started to go limp. It was like nothing Shane tried seemed to work, so then I interrupted them and said that I had hoped to see Gino cum. However, since he was having such a hard time, I didn't want to waste any more of Shane or my time. He just wasn't going to make as much since he didn't get off. In the back of my mind Gino had so much more potential in front of the camera, so I wanted to have him come back to get fucked by Shane. Gino actually started to get excited when he heard that, but I told him that he had to wait for another day.