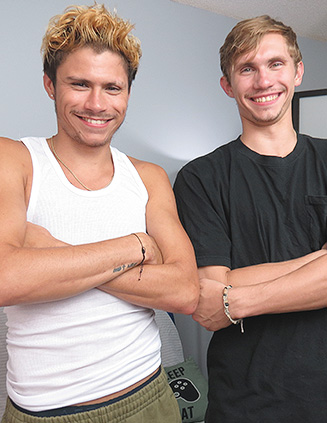 Chris can't help but giggle, and Darron follows. The two get back in their element when they start rubbing their hardening cocks with excitement. Chris's hair, looking fine with the bleached ends, remains still while he takes Darron's hard, huge cock into his mouth.
Just the tip can fit. Darron is well-endowed with cock. He shoves his perfect erection and balls towards Chris's face then lays down to lick Chris's cock. They 69, gulps and gasps coming from both their lips as they pleasure each other with their throats. Chris's tanned skin contrasts against Darron's porcelain as they sandwich each other.
Enjoying wetness, Chris's cock gets Darron's mouth then his ass as it slides in gently. Soon he is pounding his ass with the straight-boy vigor we come to expect from this dirty top. A few slaps and changes in tempo, Chris plays with Darron's ass. His long-hanging balls swing forward to slap against Darron's as he pulses his hips. Bringing himself to climax, Chris lets himself cum onto Darron's asshole.
Then cums the sexiest part. Chris licks his own cream off Darron, delivering it by mouth to Darron's lips. Accepting it without hesitation, Darron swallows Chris's cum and the boys kiss gently.
As if to encore an already amazing performance, Chris lays on his back and receives Darron's gigantic manhood up his tight asshole. Moaning, he yells, "Fuck!" Darron has to pull out because Chris is so tight, giving it another two shots to enter him carefully. Chris screams. It's so big and his hole is so tight.
To muffle his cries of intensity, Darron kisses Chris in between the gentle pulsing of his cock.
Picking up speed, Darron starts to enjoy the pleasure-pain he is providing to his partner, a smile creeping across his face as he brings himself to the climax. Spilling his cum onto Chris's front, the two touch themselves with abandon. Chris, in turn, gives himself another present for pleasing such a big-cocked partner.