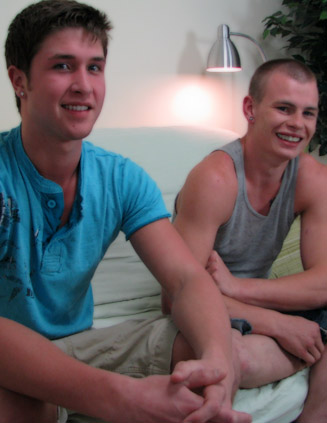 Nathan had been trying to get some more shoots, so that he could pay tuition and other things. I thought of all the guys that I could pair him up with and started making phone calls. I talked to a couple of models and finally left it as the first one to make a decision and call me back would get the work. The winner was Logan, so we went over the shoot and what all I wanted to happen. A day later the guys showed up for the shoot and Nathan was at the studio first, and as soon as Logan got there we got started. Both guys took a seat on the couch and we got right into talking about what was going to happen. Nathan was going to bottom again, and Logan was going to top. Nathan said that the next time he was going to fuck Logan as a form of paybacks. Now, the shoot was the very last thing for me to do for the day, so I was getting a little tired. The plan was that I was just going to let them do things on their own and I would film. Both seemed to be fine with that.

Starting with taking off their shirts as they stripped them off right away I noticed that Logan had a sunburn on his chest and it added some color to his skin. However, I am sure that it hurt a little bit as well. Continuing on with getting undressed, Nathan was quick to undress out of all his clothes. Logan took off his shirts, and then I noticed that there was some print on his boxers. He told me that they were bananas, and he stood up to take them off. Once they were both naked I told them that I would put on a video and it would be great to see them kiss. Logan said no way, kissing happens to be too intimate and fucking was fine. To get them going, I had Logan start with getting Nathan hard by giving him a blow job. Logan leaned over and put the cock in his mouth. He started to suck and was able to get Nathan hard in a short time. I had them switch things up and had Nathan give some oral to Logan. Even though Nathan was still learning how to suck cock he was doing a good job, because Logan was rock hard.

I asked the two of them if they were ready to fuck, and Logan seemed like he was good to go. Even though Nathan has bottomed before, he still was very nervous in going down that road again. Both of them got ready while I prepared the bed. Nathan wanted to start out in the doggie style position, and so he made himself comfortable leaning over some pillows. Logan moved in behind him and started to push his cock in very slow. Once he had a couple of inches in he backed out, before pushing right back in. Going slow as to cause as little pain as possible, Logan was being very gentle. It was when Logan pushed all of his cock in that Nathan would make more noise. Watching the two of them was hot, because Logan was fucking like he would a girl. Placing his hands on his back he would thrust his hips forward and pounded that ass like he knew what he was doing.

After a while of the same thing, Logan was ready to switch things up. Nathan got on his back, and put his legs up in the air. As Logan was fucking he would move Nathan's legs around and do his own thing as he fucked. I was glad to see that Logan started to stroke Nathan's dick for a bit to try and get him to take his mind off the fucking. This allowed Logan to pick up the pace and go a little faster. The best part of these two fucking was that I was able to see so much of the penetration. Logan pulled out and took the condom off, because he felt like he was about to shoot his load. Both guys lied down on the bed next to each other jerking off, ready to cum. Sure enough it was Logan who came first and most of it landed just at the base of his cock. It took a little bit longer, but Nathan started to have his orgasm. His body moved around, his breathing changed, and his load started to spray out on his stomach. He had a couple of good bursts. Both were rather tired after that much fucking and did a great job in the shoot. Nathan said that he was going to blow his money on tuition and a motorcycle. Logan was a little to distracted to think about what he would spend his on. I grilled them one more time to see if they have messed around with guys on their own, and the response I got was no. Then, I told them that since it was late, and they did a great job that I would treat them to dinner after they got cleaned up. They were happy to get some free grub. That was when Nathan realized that he didn't know the name of the guy who just fucked him. It was kind of funny.