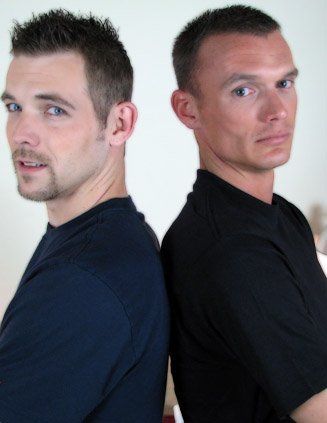 Bobby called me up and told me that he wanted to do some work. We decided on a time for him to come by the studio for a shoot, and we talked a little more on the phone about his experience. When he showed up at the studio for the shoot I had him take a seat on our casting couch, and I went ahead and started rolling the camera. Bobby is 25, straight, and recently broke from moving into a new place. He has a girlfriend, and when I asked him if she knew that he was doing porn. His response was that she knew he was making money and that was it. Recently, Bobby tried to do some work with a local company that wanted some shoots. While he thought he was setup to do a girl shoot, they had him blind folded. That was when they had a dude come out and start doing all this stuff with him. They then took the blind fold off, and went back and forth to get Bobby to fuck the guy. However, after the shoot was over with they didn't pay for doing it. After that experience it left him he a little nervous to do any more work, but he needed the money.

My plan was to repeat what Bobby went through with the other company, just not blind fold him, and give him a nice paycheck for doing the shoot. Because of everything that he went through, he said that he was only interested in getting his dick sucked by another guy and maybe a hand job. I got him to agree to try it, and so I called EJ into the room and to take a seat on the couch next to Bobby. Introducing the two of them to each other, I explained that EJ was 24, straight, but wanted to do broke straight boys. When I asked him if he was ready to do the scene with another guy, he hesitated and didn't really have a response. I figured that was all because of being next to another guy who was straight, and admitting that he would do the things we talked about. I offered EJ more money to do the dick sucking and he decided to just do it. Since I haven't seen Bobby naked, I had him get undressed first. Standing up for us, he was huge! He told me that he was 6'1" as he stripped down out of his clothes to his underwear. Over all he was tone, tan, smooth, and very good looking. I had him take a seat on the couch, and then moved the camera over to EJ to get undressed.

To make things a little easier I told them that I would put on a porn for them to watch and they could just start out with playing and getting themselves hard. From there, EJ could give his first blow job to Bobby. The big tip that Bobby had to share with EJ was not to use any teeth when he sucked. Turning on the porn both guys pulled out their cocks and jerked off to the video. Both were being really quiet, and I just had to keep them going. I instructed them to pull their underwear down after a while, and Bobby looked like he was ready. EJ was instructed to get started, leaning over he grabbed the thick cock and put it in his mouth. EJ concentrated on sucking the top three inches and used his hand to help out as well. Bobby put his hand on the back of EJ's neck to try and get him to do down further. It was working too, because Bobby's dick was now a lot harder and taking up most of EJ's mouth. EJ even had to stop because he was gagging and his eyes were starting to water. However, he didn't cough out on me there, he started sucking again. When EJ got to the point where he was licking Bobby's dick all over with his tongue and playing with his balls. I couldn't help but think that he was doing something he has fantasized about.

After EJ gave such a good blow job for his first time, I asked Bobby if he too wanted to try and give his first as well. I told him that he would get the same amount of money as well for doing it. It took him a moment to think about it, but in the end the money was enough motivation. He took EJ's soft, limp dick in his mouth, and started to suck on it. For sure EJ was still nervous, because even though he was enjoying doing the shoots, his dick wasn't growing much. All of a sudden though, things somehow changed, because his cock got as hard as a rock. Getting into the moment, EJ even reached over and started to jerk Bobby off at the same time. After a while they both seemed to be into the moment and enjoying themselves. It was hot because they both just forgot that I was even there, so they just fooled around. Bobby sat up and the two of them jerked each other off for a bit. Bobby was hard again and in watching them, EJ just couldn't jerk Bobby off the way he liked. Both went to just jerking themselves off really fast to try and shoot their load. Making the moment really intense Bobby was about to cum and his whole body was turning red. He came all over himself and just sat back after all of that. I moved over to EJ who was pretty close to getting off as well. Sure enough he shot all over his hand and both just relaxed for second after all that work. I asked them if they would consider doing more on camera next time and they seemed to be down for talking more about it.