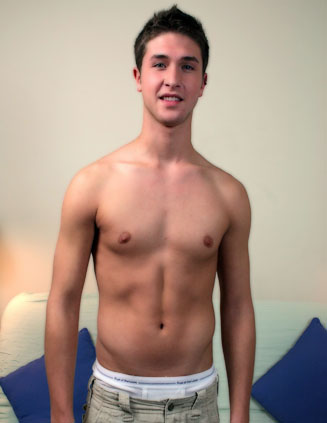 I invited Logan to come back to do another shoot for us in the hopes that he would do more on camera. When we spoke on the phone to setup the time and day for the shoot, I told him to come with an open mind. The day of the shoot Logan showed up, and after coming in he took a seat on the couch to get started. I had him remind us a little bit about himself and he said 18 years old, straight, broke, and going to school. I ask him if he would be interested in doing an oral shoot and he told me to bring out the girls. When I said okay I will have the girl come out. The side door to the room opened and in walked David, causing Logan to freak out and wonder what was going on. I explained that David was gay and just like a girl. That his dream was to be with a straight guy, and his mouth would be just like a girl. I told Logan that a mouth was a mouth and to just close his eyes. The first thing we had to do was get the money issue out of the way. I asked Logan if he would do oral for $500 and he said no way, finally settling on $800 to get his dick sucked by David.

The two boys stood up and first to come off was Logan's shirt, to do that I wanted David to do it. Once the shirt was off, I asked Logan if his nipples were sensitive. He said no, but I had David play with them any way. Logan didn't seem to be enjoying, however I just wanted the body contact to start. David had a very nice upper body, smooth, tone, and it looked chiseled. I wanted David to lick all over and enjoy it. One thing that I learned about Logan was that he was a frat boy, and gets called FISH. He told me FISH stands for Freshly Initiated Shit Head, which he got from his fellow brothers. I told him to think of this as a pledge that he has to do. David was getting a little uncomfortable that maybe he was crossing over Logan's lines. To see if I could lighten up the situation I told Logan that I would put on straight porn for him to watch. Going for the pants next the button seemed to be a little tricky for David to unlatch. His shorts fell to the floor leaving Logan standing their showing off his body in just his underwear. Having David pull Logan's briefs down I wanted to see his ass exposed. The buns on Logan were firm, tan, and tone.

Giving David the green light to start playing with Logan's cock he reached forward and started to touch on the outside of the briefs. After a few seconds he asked if he could go inside, and I said that was fine. David let me know that Logan was semi-hard, and I had him pull it out for us to see. It was getting harder the more that it got touched, and was just bouncing around. I asked David if he was ready to suck it and he was very excited to give oral. He dropped to his knees and placed the cock in his mouth. With David being so turned on and horny to be with a straight guy, I think that Logan was a little afraid to admit that he was enjoying it. He spoke up saying that the situation was fucked up, and I told him to just relax he was getting paid. To make them a little more comfortable I told them to take a seat on the couch. David removed his shirt and resumed sucking on Logan's cock. Logan got a little more into it by making David gag on his cock by forcing his head down on it.

In watching Logan he had a dominate side that was starting to show through the more that he made David down. It would take David a second to catch his breathe after having to hold the deep-throat position. In a chance to get the shoot moving some more, I had David strip down out of his clothes to be fully naked. David went back to sucking cock and seemed to be worshiping this cock. Logan was telling David to keep going, and not to use his hands as much. In a moment of pausing I asked Logan if he wanted to make some more money, and he asked what I had in mind. That was when I told him that he would be sucking my dick. In a quick response I told him that I was only joking and that I wanted him to touch David's dick. We talked about the pay and upped the money that he would make, so that the shoot could continue. Reaching over he lightly lifted it David's dick up, and played with it. This was the first dick he had ever touched that wasn't his own. I asked David if he wanted to get his cock sucked and he said yes, but told me to wait. That was because he wanted to be hard first in order for a chance for Logan to put it in his mouth. I raised the pay to $1200 for him to try oral, and he was very disparate to make the cash agreeing to do it. Logan kept telling me, "fuck you" as he put the dick in his mouth.

Once Logan had the tip of the penis in his mouth, I knew that we were good with him continuing. Using a combination of his mouth and hand he tried to give a blow job. Moving his head around in a twisting motion he wasn't doing too bad, but would pause every once in a while. He tried to call it quits, but I wouldn't let him take a cough out on sucking his first cock for such a short period. I asked him to do it a little bit more, and he did. Then, we went back to David giving Logan oral, but this time I made sure that Logan at least gave a hand job at the same time. Logan lifted David's head off, and David just continued to jerking him off. That was until Logan came, shooting his load all over David's hand. After cumming, Logan's dick was highly sensitive and so he didn't want it touched any more. It was now time for David to get off. David stroked his cock with a firm grip, and it only took him a minute before he was ready to shoot. He came his load all over his hand as well. Both guys put on a great show, and Logan survived his first cock sucking experience.