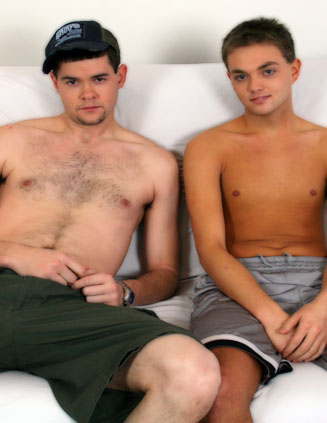 I invited Max and Landon to come back to do another shoot for me, and this time I wanted both to participate in a duo shoot. My plan was to team them up together, because neither one had done anything with another guy before. Landon was bi-curious, so really he was just looking for an experience. Max on the other hand was straight, but I figured a cute, little, twink boy might work for him. The two of them showed up at the studio and right away I put them in front of the camera. That is when they seemed to get real quiet and shy. Now, I threw in that I wanted Max to suck some dick and he was just interested in how much money I was going to give him. Both had never sucked dick before, so I knew that it was going to be interesting. Landon was going to go first with giving a blow job. I asked him if he would eat Max's load if I gave him some more money, but he decided that he wanted to pass on the offer.

To get undressed they both stood up and started to take off their shirts. Being so close I panned back and forth between the two. I told them that I would put on straight porn for them to watch to get hard just like in their solo shoots. Stripping off their pants as well, the guys were left standing in their underwear. I had them turn around to show their butts, before they took a seat on the couch. Both started to squeeze and play with their dicks to get them hard. Max seemed to be pretty hard from watching the porn and ready to get his dick sucked. Giving Landon the green light to suck some dick, they seemed to move really slow taking off their underwear. Leaning over Landon took the dick in his hand and placed the cock in his mouth. Landon would go down about half of his cock, and wasn't doing a bad job to start. However, Max was going a little soft after a while, and maybe that was from nerves. The more that Landon concentrated on the tip the harder it seemed to get. I told Landon to stroke the cock a little bit as we well to help keep it rock hard.

One thing that I noticed was as Max was turned on and liking the blow job he started to jerk Landon off at the same time. The two of them were very quiet, but they didn't stop. Max said that it wasn't as bad as he thought it would have been. It was now time to switch things around, and so it was Max's turn to put a dick in his mouth. Landon sat back and watched the porn. Max grabbed his dick and wiped off the tip before placing it in his mouth. As he sucked the cock, it got harder in his mouth, and Landon acted like he was getting turned on. Landon lightly moaning and rubbed his body and Max started to jerk him off at a pretty good pace. It wasn't long before Landon started breathed really heavy and let out that he was about to cum. Sure enough he shot his load on his lower stomach and let out a, "fuck yeah!" Max sat back, and I asked Landon if he would taste his cum. Sure enough he picked up some of the thick cum in his finger tips and put it in his mouth. Max just looked at him and didn't know what to think.

Next, it was time for Max to get off, so he applied some lube to his hand and started to jerk off. Putting his legs up in the air just like he did for his solo shoot, something tells me that this straight boy will look good getting fucked for the first time as well. I asked Landon to play with Max's balls to help him stay turned on. Max's breathing got faster and he started to moan. He started to cum and sprayed every where, he even got it on his chest and legs, and on Landon's hand. Afterward I asked him if he always jerks off like that and he said yes. He even got some on the other side of Landon, and Max wanted to go have a cigarette after all that. I asked about a possibility of them doing some fucking and it seemed like they wanted to talk money. We will talk soon over the phone and see what we can setup for the next time they come to visit broke straight boys.