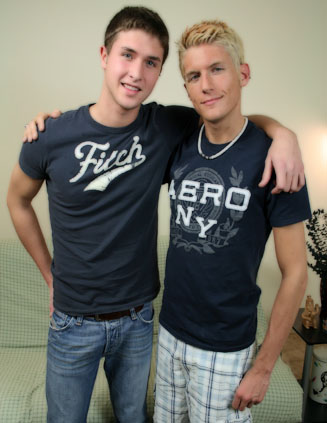 I had some guys call me up and they were interested in doing some modeling. It was two guys Logan and Jay who were friends and got wind of the site. They were both broke and wanted a chance at make as much money as they could. We setup a time for them to come into the studio and do a test shoot. To speed things up, I ask if they wouldn't mind doing a shoot together and they said that would be fine. When the two arrived later that week for their shoot, right away they seemed nervous like all first models are when they first walk in. We did a little introduction and then they took a seat at the table and got the paperwork out of the way. Moving over to the other room, the two of them were ready to get started for their first experience on camera. Neither one had done anything like this before, but was in it for the money.

Logan happened to be 18, straight, broke and just finished his first semester of school. Jay lives in the same building as Logan, and they both started at the same time. They started hanging out together and became friends. When Logan saw the ad and told Jay about it, they both decided to try it together. Since they were on winter break and passed their finals with flying colors, both were working to blow some steam. Jay was trying to pay off some speeding tickets that have stacked up. Logan on the other hand wants to get a new car, since his Saturn has had some problems. When I first talked to Jay on the phone he told me that he was bi-sexual and had some experience with guys before. There in the shoot, I asked him what he had done and he explained just oral. As far as with girls go, he had limited experience there as well. Turning over to Logan he said that he has been with 9 girls, since his first experience at 15. Just to make sure I asked Logan if he was fine with Jay being bi and doing the scene with him. He said that it wasn't a problem since they weren't going to be doing any touching.

I explained to both of them that they would be jerking off in a kind of interview shoot, and then from there we would look at using them in later work for this site or other ones that we shoot for as well. Both seemed a little more relaxed and ready to go at this point. Starting with Jay, I had him stand up for me and take off his shirt. Right away, I noticed that he had a flat stomach that proved that he took care of himself. It seemed like Jay had a nice tan going, and he admitted that he has spent some time in a tanning bed. I had him go through his stats for us, and he said that he was 150 pounds, had a size 12 shoe, and that's when I told him to take off his pants. To do that I told him to let Logan help him out. Logan reached forward very carefully and as he undid the zipper and pulled the shorts down, he made sure not to touch Jay's dick. Next, I had Logan stand up for me to take his shirt off. After he peeled it off, he revealed that he was a little pale, but had some muscle tone. I gave him some shit, when I found out that he used to workout a bunch, but has been slacking off. However, he used to play soccer and so I have to give him credit there. When Logan gets hard he said that his dick gets around eight inches, he happens to be 6 feet tall, and weights 165 pounds. As he got down to his underwear, I had Logan spin around for me to show his ass to the camera. He had a nice looking butt, and I caught that he had some dimples above his butt.

Now, that both guys were in their underwear I explained to them that I would put on some porn for them to watch and they would just jerk off. There was going to be no touching between them this time, and all I wanted them to do was get off for us. Sitting back on the couch, they started to watch and play with themselves. Both rubbed their cocks a little differently, but it wasn't long before I noticed that Logan was pretty hard. I asked him how things were coming, and he told me that he was getting there. I had him stand up for me, and show his dick. As he pulled down his underwear I reached forward and grabbed his dick. Touching it gently I wanted to see what his reaction would be, he didn't freak out with a guy touching him for the first time. Taking a seat back on the couch they got to a point that they took off their underwear to get a little more comfortable.

As they were jerking off to the video, Logan was the first one completely hard, but Jay wasn't that far behind him. Both seemed to stroke at a pretty slow steady pace, and made much noise or movement the whole time during the shoot. They seemed to pick up speed together jerking off and seemed to almost want to shoot at the same time. Logan let out a warning that he was going to cum. I tried to get at an angle to show them both, but Logan shot his load, and then Jay came as well. Jay shot his load on his stomach in a thick trail covering him in cum. It was hot that they both seemed to connect really well with one another and even better that they got off together. I hope to bring them both in for some more work here soon.