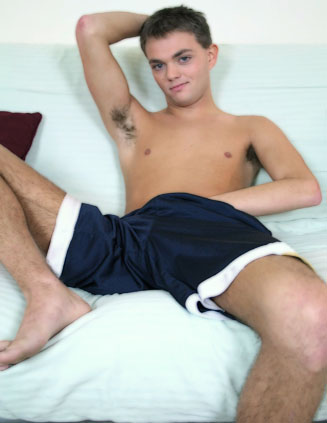 Landon, 19, straight/curious, considers himself open and looking for new experiences, from Tennessee, and always horny. He has never messed around with a guy before, and has only been with one girl of which he was in a long term relationship. His sexual experience was with the one girl that he has been with. Landon seemed to be nervous, but I reminded him that everyone starts out the same with a solo, before we look at moving them on to something else. To get started, I told him to take off his shirt, Landon peeled off his shirt. His chest was very tan, smooth, and he had smaller nipples. Standing up, he happened to be 5'9", 130 pounds, and he seemed to be in good shape. Since he has been working and going to school he hasn't had much time for working out at the gym. Continuing on with the undressing he slipped off his shorts, and had on a pair of briefs. Standing there in front of the camera almost naked, I got a good look over his body from head to toe.

I asked Landon if he was circumcised and he said yes, I told him that I wanted to see it. He exposed his limp cock to the camera. Reaching forward I touched his balls and they were shaved and smooth. Looking closer at his package I could tell that he trims and shaves on a regular basis. That is something that I am seeing all types of guys do now days. Turning around he showed his butt to the camera, before sitting down on the couch to get started. Explaining how everything would work, I told him the process so that he would know how everything would go down. I figured that might help to calm his nerves a little bit. As he reached for the lube on the table, I made sure to get some porn on for him to watch to get him stimulated. Grabbing and pulling on his dick with his right hand, he would rub his chest and stomach with his left to get turned on. Landon's dick started to get hard and he began to put on a show for the camera.

After a while I tried to get Landon to change positions to try something else, so he lied down on the couch. He wasn't getting completely hard after a while, and so it was showing that Landon was still really nervous. I gave him some space and left the room to see if that might help. When I returned I saw him jerking off and using his other hand to stimulate his asshole a little bit. That was a turn on to watch this curious, almost virgin boy getting turned on by playing with his ass. Moving in closer, I got down more on his level, and it appeared that he wasn't having any hard issues any more. Reaching forward I rubbed his balls a little bit, and Landon didn't seem to mind. He actually started to moan and talk a little after that showing that he was getting closer to having an orgasm. As he got louder, I moved in and knew that it was only going to be a matter of a few seconds before he would cum.

Giving me a warning before he let it go, Landon came shooting his load up his stomach giving a line of cum from his dick up past his belly button. He did a good job, and I offered him an extra $100 if he would eat his own cum. Scooping most of it up in his hand he licked a little bit first and then started tasting more of it in his mouth. Landon seemed like he would get better with each shoot he does in front of the camera. I invited him back to the studio soon, and I would look at pairing him up with some body.