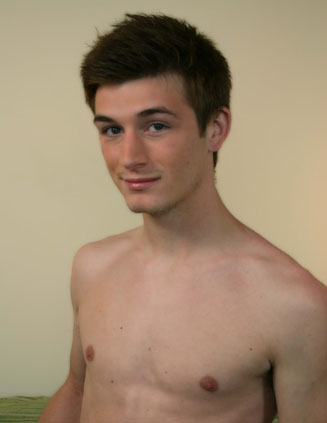 I would like for you to meet Drew, who came to us from one of the ads that we run. He was looking to make some money, and also was looking to explore his sexuality. Right away he let me know that he thought that he might be bi-sexual, because he liked looking at guys, but had never done anything with them. He has only been with girls, however I told him that we could look at changing that if he wanted. I explained to Drew that what we were going to do was a casting couch, or a solo jerk off shoot. Where he would jerk off on camera and we could see how he does. Then, from there we could look at putting him in some other work.

To get a better idea about Drew, I had him tell us his stats and a little about himself. He said that he was 5'10", around 150 pounds, been with girls, and very smart. The first thing that I had Drew do was take off his shirt, and for us. The one thing that I told him he would have to do first was work on getting some color on his skin. He kind of laughed when I said it, but he had a very nice chest. I could tell that he even had some pecs, and biceps on his arms. Next, to come off was his pants, and as he was standing there I had him turn around to show his booty. He pulled his briefs down and I had him slap his ass for the camera. Taking a seat, we talked about putting on porn and what he wanted to watch. Drew settle on and was kind of excited about seeing some bi porn.

Playing with his dick inside his briefs he was working on getting hard. One thing that he did was pinch his nipples at the same time to arouse himself. Looking over he saw the lube bottle on the table and wanted to know if he could use it. I told him that was fine, but that it would be a good idea if he took off his underwear first. Sitting there on the couch he jerked off to the video, and rubbed his body with his other hand. As he got more turned on he started to lick his lips more, and keep his eyes shut. To get more comfortable he repositioned himself on the couch and was more in a laying down position. It was only a minute later that he said that he was going to cum. He came his load on his lower stomach, with it mostly in his pubic hair. He was out of breath, and by the time I finished capturing his load he was back to normal. Drew said that he had a good time, and that he would be down for having his first experience with a guy. If he would do it, then I could pay him and he could see if he liked it. I am getting to work to see what kind of match I can find.