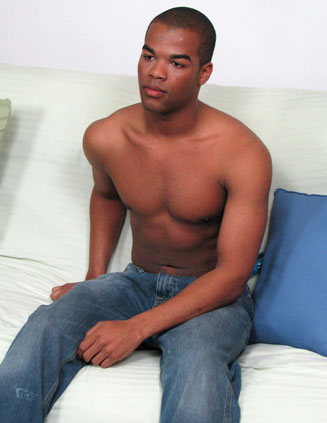 Derek has already starred here on Broke Straight Boys in an oral scene with Tyler, but after that I wanted to get him in a solo scene. He has a great looking body, and I wanted him to get more comfortable in front of the camera. I gave him a date and time to come in for the solo shoot, and he didn't have a problem with that. When he arrived I told him that we would be kind of doing a casting couch so members could get to know him a little bit better, and then we could look at putting him in some more work. Taking a seat on the couch we started rolling the camera, and I had him start by telling us that he is 19 years old, he likes to work out, and eat right. Derek explained that he likes white guys, all kinds of different dicks, and typically likes the skater/surfer type boys. I had him take off his jeans, and as he stood there, he said that he was 5 feet 9. Once his jeans were off, and he was standing tall, Derek had a great looking ass. I had him turn around to show the camera as he was modeling his butt in the briefs he had on.

A great butt, Derek explained comes from doing leg lifts. I had him even get down on the floor to show me a couple just so we could watch. Pay attention and you can see just how tight his muscles are as he does the exercises. Derek said that he likes to shave his body for the smoothness, and how tone it makes him look. To keep things moving, I told him to take a seat on the couch and pretend that he was jerking off at home. Taking off his underwear, he started to rub his dick and reached for the lube bottle that was hiding under the pillow. When Derek had a bunch of lube, he used two hands to jerk himself off. I continued to ask some questions here and there to get to know him a little more throughout the shoot. Derek told me that hard his cock tends to be around 7 and half inches hard, and from the looks seemed really thick as well. Keeping his eyes closed a lot he tried to go into a fantasy and not watch what was going on in the room.

Changing to another position he laid down on the couch and stroked his cock using a bunch of different techniques. The muscles all over his body started to tighten, and he was really concentrating on getting off. His breathing started to pick up and then without warning he started to have an orgasm. Derek came shooting his load straight up out of his cock, and onto his stomach and hand. He said right away that he felt better, and squeezed a bet more cum out afterward. I couldn't believe how thick he was, and if he fucked a guy I am sure that it would hurt them. We will have to see who we can pair him up with in his next shoot. Keep watching to see what Derek could do next.