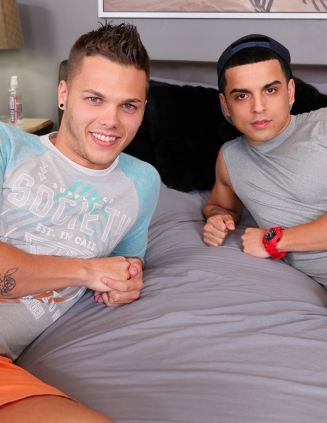 Gage Owens gets a break from bottoming because we've got Junior Fernandez here today, and Junior actually prefers to bottom. The guys kiss for a while, slowly pulling off their clothes piece by piece as they keep their lips locked together, and when they're both naked Gage goes down on Junior!
He sucks Junior's cock, running his tongue up and down that shaft as he goes faster then slower until he's hard and ready to please Gage! Junior gives Gage head while Gage teases Junior's tight asshole with his finger, moving it gently around Junior's entrance before he gets behind him and lines his big dick up with Junior's hole.
Gage slides his cock in slowly, letting Junior adjust to it as he gets filled up inside, and then Gage fucks him harder and faster with his thick bareback prick, making Junior moan with pleasure as he takes that dick! Junior turns around onto his back and opens up his legs to let Gage enter him, getting fucked raw until he strokes out a huge load onto his stomach, and Gage pulls out and drains his cock next, covering Junior with even more cum!