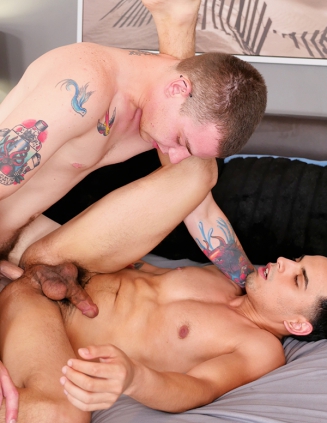 Ryan Fields and Junior Fernandez kick off their scene without a word, but both these sexy guys know what they're here to do and they get started with kisses, making out for just a minute before they're moving on to bigger things…like Ryan's cock! Junior gets on his knees and works Ryan's dick, feeling it get harder in his mouth as he sucks that sweet cock and then stands up to let Ryan have a taste of his meat next.
Ryan takes Junior's long prick all the way down his throat before they move things back to the bed and Junior positions himself doggy style, waiting for Ryan's dick to push through his tight hole. Ryan slides his bareback cock into Junior's ass, fucking him harder and making Junior's ass bounce with each deep thrust as Junior moans.
When Junior gets on his back, Ryan holds Junior's legs in the air and opens up that ass with his fat cock, pounding Junior raw while he strokes his own hard dick until he cums all over himself. When Ryan sees all that jizz he can't help but pull out and add his own semen to the mess all over Junior's chest and abs!