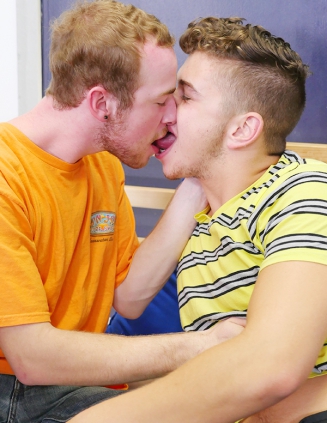 Kaden Porter might just give Tanner Valentino a run for his money since Kaden sounds like even more of a horndog than Tanner…but we'll see how the scene plays out before we make that call! They start with some kisses, making out as Kaden massages Tanner's cock through his shorts, eventually pulling that big dick out and sucking it until it's throbbing hard.
Tanner gives Kaden some oral next and Kaden facefucks him, pumping his dick down Tanner's throat until these two are both horny as fuck and ready to get it on. Tanner climbs on top of Kaden and lowers himself onto Kaden's thick cock, sliding it in slowly then bending over to make out with Kaden while Kaden slams his bareback dick into Tanner's tight hole!
Side by side, doggy style, these guys fuck hard and Kaden makes Tanner's ass bounce as he thrusts into him deeper and claims that sweet ass. When Tanner's sore hole needs a break, Kaden goes down on him and sucks on his cock until he's ready for another raw pounding, fucking him so hard that he makes him cum all over then pulls out and drains his own cock!