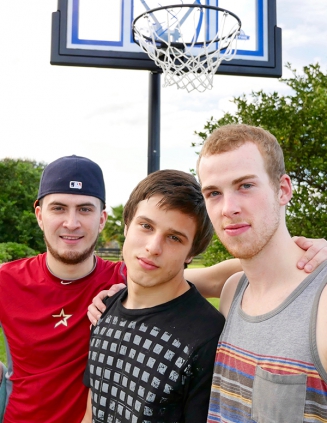 Jesse Avalon, Kyle Porter and David Hardy each have a different level of experience with threeways, but of course David is the most experienced of the group so he takes the initiative to things started. They strip and get on the bed, all on their hands and knees eating each other's ass out, with David in the middle as he gives and receives a rimjob.
When those asses are slick with spit, they explore each other's entrances with their finger and then switch to some cock-sucking action next as David gets his dick licked by Kyle and sucks both Jesse and Kyle off in turn as both those cocks dangle in his face. David hardy preps his ass for cock as Jesse buries himself in David and then turns to take Kyle's meat in his mouth.
The boys get in a tricky position as Kyle gets on top of David and takes David's cock and Jesse continues to pound David as he stands above him. They switch it up and David gives it to Kyle while taking Jesse's prick, pounding Kyle raw and hard until he cums all over, and the sight of all that jizz makes Jesse and David bust a nut, sealing this sexy threesome with some final kisses!