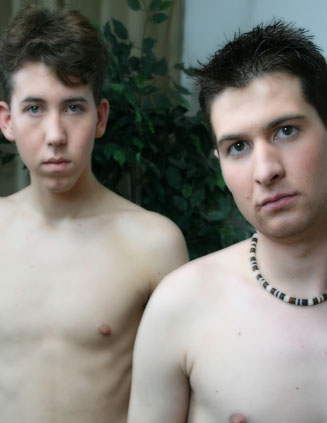 Mike came back to the studio later on in the week after he did his first solo shoot with us, and I
wanted to get him in with another guy. When he arrived at the shoot I had him remind us a little bit
about him. He's 22, still with his girlfriend, has a prince albert, and enjoyed his first shoot with us. I
told him that I had a little bit of a surprise for him for the shoot. He said that he would try it, if the
money was right. That is when I had Chris walk into the room and take a seat on the couch next to
him. Chris's 19, and I told them that they were just going to jerk off next to each other.

Getting undressed they stripped off their clothes, and I noticed that Mike had a tattoo that said, "bite
me" on his lower stomach. Chris had more of an athletic looking body than I thought he would.
Some light muscle tone in his chest, and looked like he had a pretty good size cock. Both guys
started to stroke their cocks, and they didn't have any problems getting hard. I asked Mike if he
wouldn't mind trying a toy and I had him reach over and grab the flesh-light off of the table next to
them. He lubed up his cock and the toy to start to stroke with it. Chris noticed the prince albert and
asked if he left it in all the time.

As Mike was stroking his cock with the toy, I asked Chris to take over doing it because he wouldn't
actually have to touch the dick. He did that for a while and then I had them switch and use the toy
on Chris. Chris started to stroke with it, and he said that felt really good. Even some moans started
to come from Chris, so I knew that he was going to be great in being in the shoots. As it was Mike's
turn to use the toy on Chris, he would cause Chris to moan a lot more. While they did that I offered
Mike some more money if he would lick Chris's balls at the same time. He didn't seem to have a
problem with it, and put his face right down in Chris's crotch and started to lick his hairy sack.

Reaching over I had them jerk each other's real cock for the first time in the shoot, just to give them
a taste of the real thing. They seemed to be doing fine, but I could tell that they both weren't really
getting excited having the other one touch them. Going back to stroking their own cocks, I told them
to start to get ready to bust a nut for us. As they did this, I watched them really concentrate on
having an orgasm. As Chris seemed to get closer to shooting his load, Mike was paying a lot of
attention to what Chris was doing. When Chris gave me the warning that he was going to bust his
nut, he came right on his stomach with several shots of cum bursting out of his cock. Mike let me
know that he wasn't far off from shooting his load as well. I moved over to prepare for him doing the
same. As he started to shoot his load on his chest and stomach, I could see some of the cum come
out of his other prince albert hole. Both guys did a good job doing the shoot, that I asked them to
come back and maybe try a circle jerk scene with us next time.