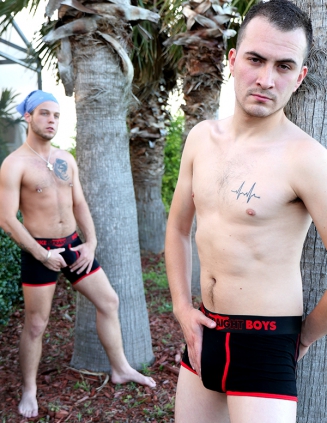 Fans, we've heard your requests and today we've brought you David Hardy and Zeno Kostas, a sexy pair that'll be sure to please…and they're definitely off to the right start! David pulls Zeno towards him and they kiss hard, making out and tweaking each other's nipples until David needs dick in his mouth and goes right down to Zeno's.
He pulls Zeno's fat cock between his lips and gets it good and hard, and then Zeno gets on his knees and returns the oral, sucking David's sweet cock and then eating his ass out next. He fingers David's hole after rimming it and then they 69 until their dicks are leaking and throbbing for more, and Zeno gladly sticks David with his long bareback prick and fucks him hard, holding his feet up and spreading his ass wide open.
Zeno gets kinky and ties David's hands behind his back, teasing his ass some more before he puts his cock back inside of David and fucks him hard and raw! These boys both like it rough and hard, and that's exactly how Zeno gives it to David, fucking him until David cums, then Zeno finishes off this hot scene by giving David one hell of a facial!