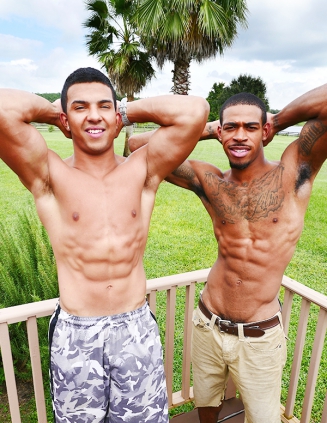 It's Brice Jones's first time giving a blow job, and Devon Felix gives him a few quick pointers before they get right to it, locking lips as they make out and undress each other. Devon goes down on Brice first to show him how it's done and teach by example, stripping off Brice's boxers and kneeling between his legs as he takes Brice's cock in his mouth and moves it in and out of his warm mouth.
Devon's not down there too long before Brice works up the courage to try it for himself, and for a newbie he looks like he's got a pretty good hang of it already! He works Devon's dick with his hand and mouth together, focusing on the tip as he massages the rest of the shaft with his hand. Devon watches the newbie go to work and when they're both ready, Devon bares his ass to Brice who slides his bareback cock right inside!
Devon buries his face in the pillow as Brice fucks him harder, pounding that hole raw with his long, thick cock. Devon massages his own dick as he gets fucked, biting his lip as he works through the pain of having his tight ass stretched around Brice's cock, until Devon strokes out a hot load and Brice drops his cum all over Devon's balls!