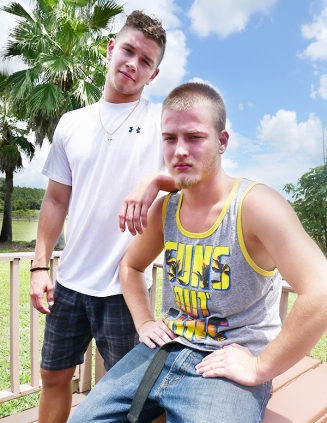 Tanner Valentino, one of the newbies around the BSB studio, is a little nervous about how well he'll perform in his scene with Jason Sterling. But Jason knows what it's like to be the new guy and he's ready to take it up the ass in order to give Tanner some more experience. When we set them loose, they immediately lock lips, kissing each other as their shirts and shorts come off and Jason gets between Tanner's legs, bending down to suck that cock!
Tanner gets into Jason's amazing oral, pushing Jason's mouth farther onto his cock as Jason takes a break to suck on Tanner's big balls. When Tanner is rock hard, he switches places with Jason and gives Jason head, sucking on that big dick then getting more oral from Jason before he bends over and offers his ass up to Tanner!
Jason's ass is spread wide for Tanner, who enters him slowly from behind and lets Jason warm up to having a cock inside of him. But when Tanner wants more, he starts fucking Jason harder and deeper, pounding that ass from different positions while Jason yanks on his own dick until he shoots his load all over himself! The sight of all that cum makes Tanner lose it and he pulls out and finishes with a fabulous cumshot to finish off this hot scene!