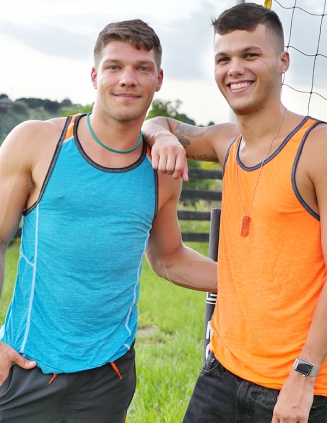 Draven Caine has been studying up on gay porn and he's back with Gage Owens to show us what he's learned! Our newbie Draven takes his shirt off and cuts the chit-chat as he bends down and captures Gage's lips in a deep kiss, making out and letting Gage finish undressing him then pressing his naked body against Gage.
Draven's already gone from six to midnight before Gage's mouth even reaches his dick, but Gage gets down on his knees and sucks it anyway before getting some oral in return. They 69 next, each guy with a cock in his mouth as they suck and drool on each other's meat until Draven is ready to fuck and Gage is ready to get fucked! Gage sits back onto Draven's huge bareback dick, relaxing his ass and letting it slide all the way inside as Draven starts to pound him, each thrust making Gage's prick bounce up and down.
When Gage needs a break from riding Draven's cock, Draven claims Gage's hole a different way as he bends him over and fucks him raw from behind, smacking that ass as he dominates it, his muscles working to push his dick deeper and deeper. Gage grabs his own cock and strokes it while Draven is buried inside of him, shooting his load onto his stomach then letting Draven do the same as he pulls out and busts a nut!