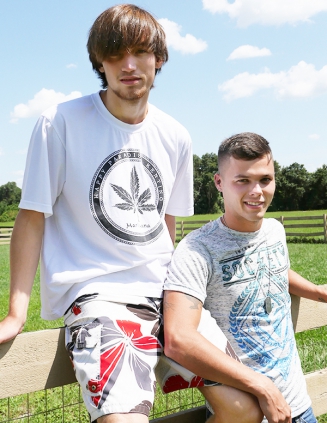 Zander Floyd and Gage Owens are both beach bums in their own way, and today they're going to make some waves and ride some dick! As they make out and kiss each other, Zander takes a minute to pull Gage's clothing off piece by piece, then his own comes off next and before you know it he's lying on top of Gage and sucking Gage's delicious meat.
He's not giving head for long before Gage pulls Zander up toward his face and takes that dick in his mouth, the oral action getting them both horny as fuck! Zander gets his mouth stuffed full of meat again as Gage straddles his face, and once they're both as hard as they can get they move on to ass-pounding, and looks like Gage is the lucky one to bottom today! Gage straddles Zander and sits right on that throbbing hard dick, letting that bareback cock fill up his tight little ass as he bounces up and down on that fat prick.
Zander fucks Gage hard and raw, slamming his cock into Gage in all sorts of sexy positions, and Gage takes that dick like a champ as Zander thrusts into him faster than we've ever seen, making Gage's ass bounce and jiggle. After all that intense pounding, Zander slows things down and kisses Gage, taking his time with him as Gage submits to Zander's will…that is, until the fucking gets to be too much and Gage blows his load, followed by Zander!