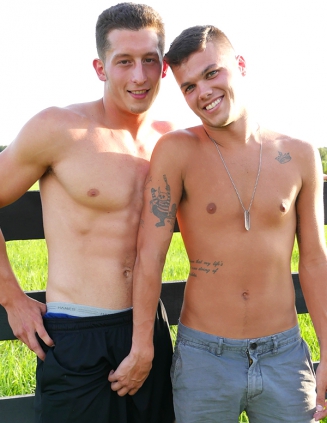 Gage Owens is back and he's about to get dominated by the handsome Drake Tyler. When they drop their shirts, take a minute to drink in their sexy sun-kissed bodies before they start to make out, pressing their lips and their bodies together as they climb onto the bed and reach for each other's cock. Gage teases Drake's dick a little before freeing it from his boxers and taking it in his mouth, sucking that sweet cock and making Drake moan.
It's not only Drake's prick that gets a good licking…Gage goes for Drake's ass and rims his tight hole until Drake can't stand it and needs to get Gage's cock in his mouth. He gets kinky, spitting all over Gage's dick then pulling him up and burying his face between Gage's ass cheeks, eating and fingering his hole while Gage gives him oral.
They jump right into the ass-pounding as Drake holds Gage up and shoves his bareback dick inside him, filling him up with that juicy prick as Gage bounces up and down on it. They bring it back to the bed and Drake claims Gage's ass doggy-style, giving that naughty boy some spankings as he fucks him raw until they both cum all over and Gage gets a full on facial!