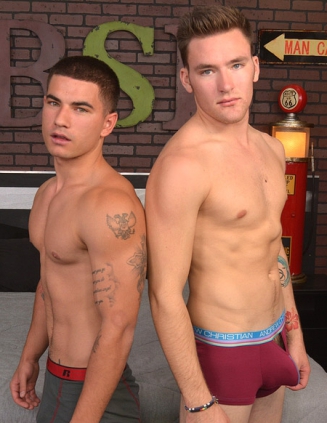 Iam Dempsey and Vadim Black are finally paired up for a scene together, and they certainly are one sexy pair! They kiss and make out, stripping off their clothes and pressing their toned, muscular bodies together for a moment before they rub each other's dicks and then 69, using their hot, wet mouths to get one another hard!
Once these boys have had their fill of oral, Ian lubes up and shoves his big dick inside of Vadim, pounding him deep as Vadim yanks on his own cock as his ass is full of Ian's prick. They make out a little as Ian slows down the pace, but once Vadim's ass is used to Ian's size, he goes at it again, fucking him hard and raw as Vadim moans for more.
They try a different position with Vadim bent over the bed and Ian standing above him, entering him from behind as Vadim takes that bareback dick without complaint. But when they're tired of standing they move it to the bed and Ian climbs on top of Vadim and fucks him like that, his balls bouncing as he thrusts his cock in and out of Vadim until finally he shoots his load onto Vadim's back and then Vadim strokes one out as well!