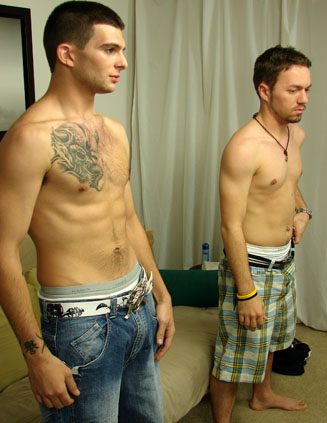 Mike came in for his very first shoot on camera, and was a little nervous. He is 20 years old, bi, and
from North Carolina where he is going to school. All the studying he has been doing has caused him
to go broke, so he decided to do this in order to make some money to pay some bills. I told mike
that we were going to do a solo shoot and then from there if he did well we would put him in more
work. There was a knock at the door and our lunch had arrived earlier than we had planned on. I
had Mike hold on a second, so that I could go pay the pizza guy. It was Tony our normal delivery
guy, and he came in to get his money. He saw that I had a whole bunch of cash in my hand, and I
offered for him to do some work for me to make a great tip. Tony didn't want to get fired from his
job, but when I told him that he had to jerk off for around 10 minutes he seemed down for the shoot.

I had Tony take a seat in the kitchen to fill out the paperwork, and as soon as he was done I had him
move into the other room. Tony took a seat on the couch and I explained that I was just going to
have them jerk off next to each other. They wouldn't have to touch each other in the shoot. Tony is
19, straight, and has a girlfriend so he was a little nervous about the deal. Both guys stood up to
take their shirts off, and that is when I discovered that they both had been inked up on their bodies.
Moving on they took off their pants and Mike was the first to sit down. I saw that he had a nice body,
and even made him stand back up so that I could see the V-lines that were popping out of his
underwear. He told me that he has been doing gymnastics for most of his life, and that is what has
kept him in shape. Tony on the other hand is more of a natural boy, and he gets whatever exercise
from being outdoors with his bike.

Tony was jerking off and seemed to have a knack for the camera from all the breathing and moaning
that he was doing. It was a great sign with him enjoying the shoot. Mike on the other hand I could
tell was very nervous being next to Tony, and kept his eyes glued to the porn. Tony would rub his
body, and move his legs around. For a while he lifted both legs up on the couch giving me a great
shot of his asshole. He would squeeze his ass and it came off as him enjoying his hand being down
there. As soon as he had some lube on his hand, his finger started to slip up inside his tight hole. I
was getting turned on by the straight guy fingering himself on my couch. He seemed like he could be
getting close to having an orgasm so when I told him that he could blow it, he didn't want to yet.

I watched the two of them doing their own thing, and Tony was looking at Mike's giant cock as he
went back to fingering himself. Mike just seemed to pretty much keep the same pace while he
stroked his cock. I told both of them again that I wanted a warning before they would cum, and as
soon as I said that Mike said he was close. Mike had a huge load that went everywhere on his chest
and covered it. It was then the pizza boy's turn, and he moaned very loud with his orgasm. When he
came, his load didn't go as far up his body. Tony then licked his fingers covered in cum, and I was
very impressed by his performance for the shoot. I asked both of them if they would like to do some
more shoots, and I told Tony that I would order another pizza tomorrow to have him come by at the
same time.